Air Conditioner Cleaning Services Now Made Effortless And Convenient With bTaskee Apps
bTaskee Company Limited, a leading provider of on-demand household services, is proud to announce their professional air conditioner cleaning services. Ensuring a healthy and comfortable living environment, bTaskee's experienced professionals are equipped with modern tools and safe cleaning products to deliver top-quality service.
More details about the services can be found here: https://www.btaskee.com.
bTaskee's air conditioner cleaning services are priced competitively, with no hidden costs. The company also offers a 7-day warranty after the cleaning, ensuring customer satisfaction. The service is available in Ho Chi Minh City, Bien Hoa, Binh Duong, Da Nang, and Hanoi.
Customers can easily book the air conditioner cleaning services through the bTaskee app, available for download on the App Store and Google Play. The intuitive app interface allows users to describe the job requirements, select the desired service time, and confirm the booking details.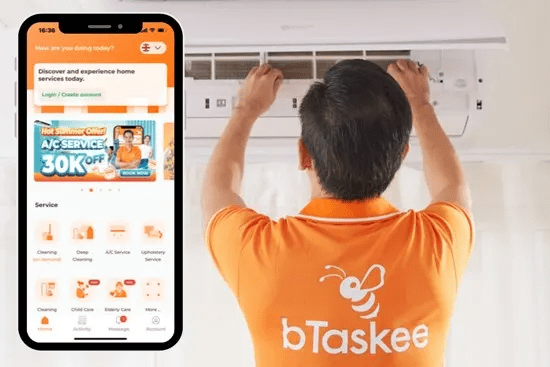 bTaskee app for booking AC cleaning service
Regular air conditioner cleaning not only ensures a healthier living environment, but also extends the lifespan of the appliance, saves energy, and maintains the room's aesthetic appeal. bTaskee's professional technicians provide peace of mind, allowing customers to focus on other important aspects of their lives.
For more information or to book bTaskee's air conditioner cleaning services, find more details here.
About bTaskee Company Limited
Founded in March 2016 by Nathan Do, bTaskee is a pioneering enterprise in applying technology to the home services industry in Vietnam. In 2021, bTaskee provided home services in Vietnam and Thailand, serving over 400,000 customers for more than 8M working hours and completing over 2.5M tasks. 97% of customers rated their satisfaction with the services and continued to use it for a second time.
Looking ahead, bTaskee will focus on expanding its services and market to other Southeast Asian countries such as Indonesia, Malaysia, Philippines.
For more information, visit https://www.btaskee.com.
Media Contact
Company Name: BTaskee Company Limited
Contact Person: Nathan Do
Email: Send Email
Country: Vietnam
Website: https://www.btaskee.com