TTF BOT's Powerful Monitoring System Exposes Token Activities in Real-time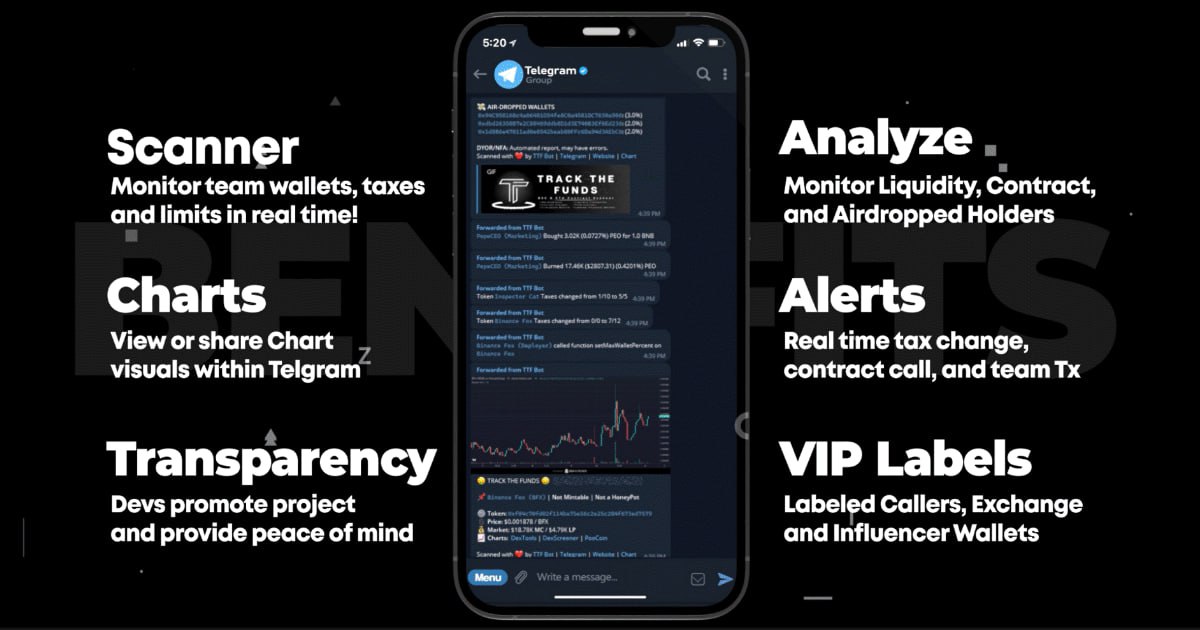 Cryptocurrency trading carries both high potential rewards and significant risks, making it appealing to investors from all backgrounds. However, the unregulated nature of the crypto space makes it a haven for scammers who exploit the anonymity of traders. Shockingly, the Federal Trade Commission (FTC) reports that over $1 billion was lost to crypto scams between January 2021 and March 2022, with thousands of consumers affected. Even experienced traders have fallen victim to these scams. To protect yourself, it is vital to adopt safe trading practices and conduct thorough research before investing.
Our team comprises of professionals with diverse expertise in development, marketing, and management, hailing from different countries. We have personally experienced significant losses from scams like rug-pulls, and we are dedicated to making trading safer. We understand that legitimate projects often struggle amidst the sea of scams, leading investors to quickly withdraw their funds for minimal profits. Our goal is to empower investors by providing them with valuable information that can help them differentiate between scams and genuine projects, all while ensuring transparency.
To achieve this, we have developed TTF BOT (a software tool) that simplifies project monitoring. It enables you to monitor various aspects, such as marketing wallets and team wallets. It can even keep an eye on air-dropped wallets and contract changes. TTF BOT allows you to identify suspicious wallets that require further investigation, track fund movements, detect promotions before they are announced, and provide investors with information about air-dropped wallets and any changes in contracts, such as tax modifications. We aim to promote secure trading for investors and enhance transparency for legitimate projects, instilling confidence in investors who want to buy and hold assets. TTF BOT also generates up-to-date charts with key statistics such as trading volume and the number of buy and sell transactions.
In the cryptocurrency space, thorough research is paramount. We strongly recommend using TTF BOT to scan a project before investing in any BSC or ETH contracts. The generated report provides valuable information, including whether a project is a honeypot or exhibits other warning signs. TTF BOT also supplies additional details such as the project's age, launch market capitalization, liquidity, liquidity lock, tax structure, team wallets, and airdropped wallets. TTF BOT is designed to empower traders, helping them make informed decisions and minimize the risk of falling victim to scams, ultimately safeguarding their investments.
Website (https://ttfbot.io/)
TeleGram (https://t.me/TTFBotOfficial)
Twitter (https://twitter.com/TTF__BOT)
WhitePaper (https://ttf-bot.gitbook.io/track-the-funds-ttf-bot-1/)
Medium (https://medium.com/@track.the.funds.bot/)
Audit (https://safuaudit.com/0x1400AB77651a26104239FF4a900073Dc9Fcd16a7)
Contract: 0x1400AB77651a26104239FF4a900073Dc9Fcd16a7
Media Contact
Company Name: TTF
Contact Person: Eray Alkan
Email: Send Email
Country: Netherlands
Website: https://ttfbot.io/