Hemophilia B Market is Expected to Showcase a Significant Growth During the Forecast Period (2022-2032), Predicts DelveInsight | Key Companies – Bioverativ, Sobi, UniQure, Novo Nordisk, Sanofi
As per DelveInsight, the Hemophilia B therapeutics market is anticipated to grow in the coming year owing to the rise in the number of cases of Hemophilia B and the launch of the most anticipated gene therapies in the market by major pharma and biotech giants and the rise in the healthcare spending across the world.
Major Pharma giants are thoroughly working toward the development of new treatment therapies for this indication to provide better relief for the symptoms and hence improve the Quality of life (QoL) of patients with Hemophilia B. Currently, gene therapies are gaining popularity due to their potential to cure this disease and also the anticipated one-time infusion. Apart from this, increased focus on prophylactic treatment increased usage of extended half-life therapies, and anticipated entry of premium-priced novel hemophilia B treatments will also contribute to the market's growth.
DelveInsight's "Hemophilia B Market Insights, Epidemiology, and Market Forecast 2032" report delivers an in-depth understanding of the disease, historical and forecasted epidemiology, as well as the Hemophilia B market size, share, trends, and growth opportunities in the seven major markets (7MM) (i.e., the United States, EU4 (Germany, Spain, Italy, France), the United Kingdom and Japan).
The Hemophilia B market report covers emerging drugs, current treatment practices, market share of individual therapies, and current & forecasted market size from 2019 to 2032. It also evaluates the current treatment practice/algorithm, key drivers & barriers impacting the market growth, and unmet medical needs to curate the best of the opportunities and assess the underlying potential of the market.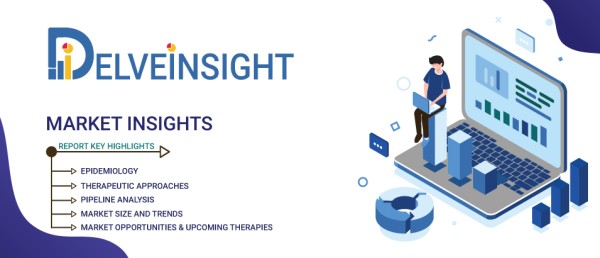 Hemophilia B: An Overview
Hemophilia is defined as an inherited bleeding disorder in which the blood does not clot properly. This can lead to spontaneous bleeding and bleeding following injuries or surgery. It is caused by a gene defect that decides how factors VIII, IX, or XI are produced by the body. One of the Hemophilia types is Hemophilia B, also called factor IX (FIX) deficiency or Christmas disease, which is a genetic disorder caused by missing or defective factor IX, a clotting protein.
Although it is passed down from parents to children, about one-third of cases are caused by a spontaneous mutation, a change in a gene. Clotting factors are specialized proteins needed for blood clotting, the process by which blood seals a wound to stop bleeding and promote healing.
The two main symptoms are bleeding for longer than normal and bruising easily. Even a small bump on the head can be serious with this disease. Hemophilia B can range from mild to moderate to severe. Individuals with mild hemophilia have factor IX levels between 5 and 40% of normal; those with moderate hemophilia have factor levels from 1 to 5% of normal; and individuals with severe hemophilia have factor levels <1% of normal.
Hemophilia B Market Key Facts
Among the 7MM, the US accounts for ~50% of the overall market size of Hemophilia B in 2020.

Among the EU-5 countries, France accounts for the highest market size for Hemophilia B, followed by the United Kingdom

In the United States, the total number of prevalent cases of Hemophilia B was 4,134 in the year 2020, which is expected to grow during the study period.

In the year 2020, the total number of prevalent cases of Hemophilia B was 5,408 in EU5.

In Japan, the total number of prevalent cases of Hemophilia B was 1,198 in the year 2020.

Moderate and severe account for ~75% of the Hemophilia B patient pool. In the 7MM, there were around 8,054 moderate and severe Hemophilia B cases in 2020.

In the 7MM, approximately 5% of Hemophilia B cases develop inhibitors, i.e., 537 patients with inhibitors in 2020. In addition to this, 95% of the Hemophilia B cases were observed without inhibitors. The number of cases for both categories will increase during the study period.
The market outlook section of the report helps to build a detailed comprehension of the historical, current and forecasted Hemophilia B market size by analyzing the impact of current and emerging pipeline therapies. It also thoroughly assesses the market drivers & barriers, unmet needs, and emerging technologies set to impact the market dynamics.
The report gives complete detail of the Hemophilia B market trend for each marketed drug and mid & late-stage pipeline therapies by evaluating their impact based on the annual cost of therapy, their Mechanism of Action (MOA), Route of Administration (ROA), molecule types, competition with other therapies, brand value, and their impact on the market.
Hemophilia B Epidemiology Assessment
The epidemiology section provides insights into the historical, current, and forecasted epidemiology trends in the seven major countries (7MM) from 2019 to 2032. It helps to recognize the causes of current and forecasted epidemiology trends by exploring numerous studies and research. The epidemiology section also provides a detailed analysis of diagnosed and prevalent patient pool, future trends, and views of key opinion leaders.
The Report Covers the Hemophilia B Epidemiology, Segmented as –
Total Diagnosed Prevalent Pool of Hemophilia B [2019–2032]

Treated Prevalent Pool of Hemophilia B [2019–2032]

Severity-specific Prevalent Pool of Hemophilia B [2019–2032]

Prevalent population of Hemophilia B with or without Inhibitors [2019–2032]
Hemophilia B Drugs Uptake and Pipeline Development Activities
The drug uptake section focuses on the uptake rate of potential drugs recently launched in the Hemophilia B market or expected to be launched during the study period. The analysis covers the Hemophilia B market uptake by drugs, patient uptake by therapies, and sales of each drug. Moreover, the therapeutics assessment section helps understand the drugs with the most rapid uptake and the reasons behind the maximal use of the drugs. Additionally, it compares the drugs based on market share.
The report also covers the Hemophilia B pipeline development activities. It provides valuable insights about different therapeutic candidates in various stages and the key companies involved in developing targeted therapeutics. It also analyses recent developments such as collaborations, acquisitions, mergers, licensing patent details, and other information for emerging therapies.
Learn How the Hemophilia B Market Will Evolve and Grow by 2032 @
https://www.delveinsight.com/sample-request/hemophilia-b-market
The Leading Companies in the Hemophilia B Therapeutics Market Include:
Alnylam Pharmaceuticals

ApcinteX Ltd

Bioverativ Therapeutics

CSL Behring

Freeline Therapeutics

Genzyme, a Sanofi Company

HEMA Biologics

LFB Pharmaceuticals

Novo Nordisk

Pfizer

Sangamo Therapeutics

Sobi

Spark Therapeutics

UniQure Biopharma B.V.
And Many Others
Hemophilia B Marketed and Emerging Therapies Covered in the Report Include:
Alprolix: Bioverativ Therapeutics/Sobi

Concizumab (NN7415): Novo Nordisk

Concizumab: Novo Nordisk

Etranacogene dezaparvovec (AMT-061): UniQure Biopharma B.V./ CSL Behring

Fidanacogene elaparvovec (SPK-9001/PF-06838435): Pfizer/Spark Therapeutics

Fitusiran: Genzyme, a Sanofi Company/ Alnylam Pharmaceuticals

FLT180a: Freeline Therapeutics

Idelvion: CSL Behring

Marstacimab (PF-06741086): Pfizer

Rebinyn (Nonacog beta pegol): Novo Nordisk

SB-FIX: Sangamo Therapeutics

SerpinPC: ApcinteX Ltd

Sevenfact (coagulation factor VIIa [recombinant]-jncw): HEMA Biologics/LFB Pharmaceuticals

Verbrinacogene setparvovec (FLT-180a): Freeline Therapeutics
And Many More
The Report Covers the In-depth Assessment of the Emerging Drugs & Key Companies. Download the Sample Report to Learn More @
https://www.delveinsight.com/sample-request/hemophilia-b-market
Table of Content (TOC)
1. Key Insights
2. Executive Summary
3. Hemophilia B Competitive Intelligence Analysis
4. Hemophilia B Market Overview at a Glance
5. Hemophilia B Disease Background and Overview
6. Hemophilia B Patient Journey
7. Hemophilia B Epidemiology and Patient Population (In the US, EU5, and Japan)
8. Hemophilia B Treatment Algorithm, Current Treatment, and Medical Practices
9. Hemophilia B Unmet Needs
10. Key Endpoints of Hemophilia B Treatment
11. Hemophilia B Marketed Products
12. Hemophilia B Emerging Drugs and Latest Therapeutic Advances
13. Hemophilia B Seven Major Market Analysis
14. Attribute Analysis
15. Hemophilia B Market Outlook (In US, EU5, and Japan)
16. Hemophilia B Access and Reimbursement Overview
17. KOL Views on the Hemophilia B Market
18. Hemophilia B Market Drivers
19. Hemophilia B Market Barriers
20. Appendix
21. DelveInsight Capabilities
22. Disclaimer
*The Table of Contents (TOC) is not exhaustive; the final content may vary. Refer to the sample report for the complete table of contents.
Download the Sample PDF to Learn More About the Key Offerings of the Report @
https://www.delveinsight.com/sample-request/hemophilia-b-market
Connect with us and discover how Delveinsight can help you to identify your potential business partners and investors in the highly dynamic and evolving pharmaceutical market today @ Pharmaceutical Partner Identification Solutions
About DelveInsight
DelveInsight is a leading Business Consultant and Market Research Firm focused exclusively on life sciences. It supports pharma companies by providing comprehensive end-to-end solutions to improve their performance.
Media Contact
Company Name: DelveInsight Business Research LLP
Contact Person: Shruti Thakur
Email: Send Email
Phone: 09650213330
Address:304 S. Jones Blvd #2432
City: Las Vegas
State: NV
Country: United States
Website: https://www.delveinsight.com/