Stewart Andrew Alexander Conducts Remote Interview Experiment with Handpicked Marketing Experts
Stewart Andrew Alexander, The Find, Trust & Choose Guy hand-selects a group of leading experts to participate in one of the first asynchronous interviews to grace the internet.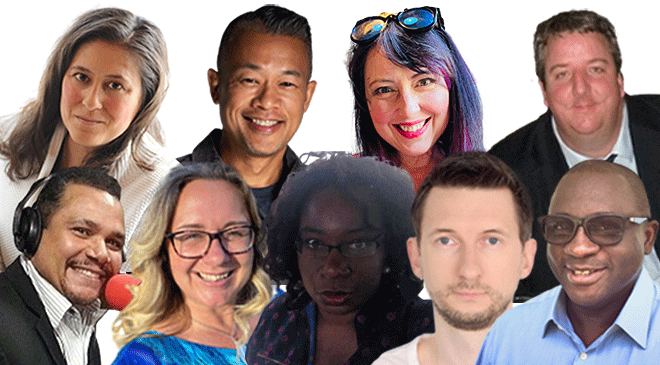 In an experiment to help creators, businesses, and agencies to record and publish audio content quickly, affordably, and consistently over the long term, Stewart Andrew Alexander, CEO of MediaGroup15, hand-selected a group of leading entrepreneurs to take part in one of the first asynchronous interviews to grace the internet.
Asynchronous interviews are the latest technological trend in creating audio for podcasts, websites, and social media campaigns, with time and cost savings of up to 90%. Guests experience their own private interviews without having to schedule online meetings or phone calls.
Alexander adds, "The new technology allows my guests to capture audio, submit text, images, and more. The only requirement for all participants (host and guests) is access to a computer or mobile device with a microphone. They can record and re-record segments and only submit their audio once they are happy with the result, meaning less editing on my part. By allowing guests to respond in their own time, we avoid the need to schedule calls with them. Plus, recording in a zero-pressure environment improves the quality of their answers and audio content."
The experiment took 2 weeks to complete, with business owners sharing short but helpful answers to one central question, "What's your best tip for positioning your business as the obvious choice for your ideal audience?"
Shola Abidoye, "Using a two-step process to identify a strategy or solution you are uniquely qualified to bring to the marketplace and combining a particular problem you know how to solve with a very concise audience. "
Andy Henry, "Focus on why the way you've approached your solution will definitely address the problem your target audience has. It's easy to create a solution to a problem, and many businesses often offer the same type of solution, so showing that you've taken a new and more effective approach to guarantee a good result can really help to be a key differentiator."
Sammy Blindell, "The key to reaching into the hearts of your dream customers is to make your words, the product, the program, the membership, or whatever it is that you're selling speak to them in a way that is their highest priority. If what you sell is not their highest priority, then you won't end up selling it to them."
JC Soto, "The best way to position yourself as the obvious choice and authority are by educating your prospects and current clients. Things change, people get distracted, and as business owners, we get new products, ideas, and services, so we need to communicate that to our current customers and clients."
Stephanie Miller, "Your online rating could be why your prospects choose you over the competition. It's important to have a steady stream of current reviews. It's even more important to respond to your good and not-so-good reviews because your response is not directed to the reviewer; it's for everyone else who reads it. You'll be amazed by how easy it is to turn a negative review into a five-star opportunity."
Mark Imperial, "The number one marketing asset any business professional should have and create is their own published book. In today's short attention span economy, people are looking for shortcuts. People don't want to take the time to care who's who and figure out what's what? Your book becomes an instant shortcut that can define you in the public's mind. And with a good book title, you're telegraphing to the world what you stand for and who you are. And perhaps even who or what you defend against."
Heather, aka Nookie Clasu, "For me, it's been all about authenticity. As I've grown and changed through the years, sharing my story and why I do what I do, the challenges I've faced when I've done it, and the heartbreaking, inspiring, and frankly just silly relatable stories make all the difference. Being exactly who I am, allows me to connect with people, whoever they are, wherever they are in their journeys, and to celebrate their unique spirit while collaborating with them to create something greater."
Algirdas Skinkys, "My go-to strategy and best step for positioning one's business as the obvious choice for your ideal audience is building and showcasing successful user case examples based on solutions that were implemented earlier for another brand. Preferably they are well known so that the targeted audience can best relate to you."
Stewart Andrew Alexander, "Ensure that your business is published monthly in premium media releases. Media releases allow you to demonstrate your expertise through tips, advice, and insights that address some of the most common myths, misconceptions, and fears your ideal audience has to deal with on a day-to-day basis. Just one or two quotes addressing those problems will position you in the hearts and minds of prospective clients who are looking for a professional to come in and solve the problems that they currently have."
Listen to the full interview https://lnkw.co/obviouschoice
To learn about the game-changing technology that simplifies content creation for content marketing professionals and agencies, visit https://rumble.studio.
Media Contact
Company Name: Impact Makers Radio
Contact Person: Stewart Andrew Alexander
Email: Send Email
Phone: +441138152000
Country: United Kingdom
Website: https://impactmakersradio.com