100 Black Men of Las Vegas and Global Paint for Charity Inc. Announces Participation in Community Service Project at the Nevada Homes for Youth
This May, a community service project aimed at renovating the Nevada Homes for Youth Inc. has been scheduled. The 100 Black Men of Las Vegas and Global Paint for Charity have announced they would be participating
Community service is at the core of societal development. For any society to record unprecedented levels of growth and development, its members must look beyond what they can get from it to give back to society. For this reason, the 100 Black Men of Las Vegas and Global Paint for Charity Inc. will be participating in a community service project in Las Vegas, Nevada.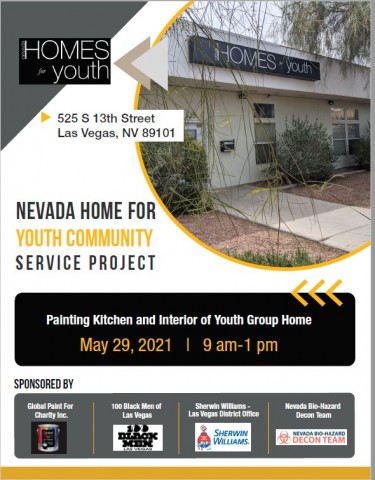 Douglas Gibson and Charles Cox of 100 Black Men of Las Vegas, Rony Delgarde of Global Paint for Charity, and Kenny Cottrell of Nevada Bio-Hazard Decon Team will be spearheading the renovation project.
The project aims at renovating the Nevada Homes for Youth by painting the interior of the group home for youth with substance abuse problems. 100 Black Men of Las Vegas, in conjunction with Global Paint for Charity Inc., will be joining Sherwin Williams Paints and Nevada Bio-Hazard Decon Team LLC in carrying out the project.
The Nevada Homes for Youth Inc. is a drug treatment center licensed by Nevada that focuses on youths living in Nevada. Led by Ronald C. Moore, MSW, the NHY staff comprises certified drug counselors, state-certified teachers, and experienced professionals.
Nevada Homes for Youth provides inpatient and outpatient treatment services for persons who have suffered from substance abuse. They are currently ten males living at the Nevada Home for Youth. Most of the residents are teenagers of low income and color.
Sherwin Williams will provide paint and other related material for the community service project. This project will take place during Sherwin Williams National Paint Week, May 23-29, 2021. Nevada Bio-Hazard Decon Team LLC will provide PPE and construction management expertise to ensure that project will be completed safely. Global Paint for Charity Inc. will provide community service management and resources for organizing community service painting events.
The community service project is set to hold on May 29, 2021, and will involve interior paintings, replacing ceiling lights, purchasing large poster frames, and recycling unused materials, among other things.
Media Contact
Company Name: Global Paint for Charity Inc.
Contact Person: Media Relations
Email: Send Email
Phone: (855) 853-7772
Country: United States
Website: https://www.globalpaints.org/