Kevin Sorbo Narrates 'CHRISTMAS DREAMS' – Picture Perfect for the Snowy Season
'CHRISTMAS DREAMS' is the perfect Christmas gift and stocking-stuffer for your loved ones.
Los Angeles, CA – Dec 14, 2020 – Watch the heartwarming family film, 'CHRISTMAS DREAMS', on Amazon today: https://amzn.to/34bj5qZ.
Andrew Repasky McElhinney's (A Chronicle of Corpses) heartwarming Christmastime spectacular, CHRISTMAS DREAMS is a graceful and colorful musical adventure following two unlikely friends – The Little Drummer Boy (Conrad Sager) and the Pretty Girl (Francesca Flamminio) – as they embark on an adventure through a sparkling Christmastime world, full of color, music, and laughter.
Unlike other holiday films, CHRISTMAS DREAMS has a magical cast and crew that exemplifies the values of new friendships, snowy adventures, and the longstanding love of family. CHRISTMAS DREAMS comes to life with character of the toymaker, Michael Marlin, real-life toymaker who encompasses the magical essence of Willy Wonka.
Sing and dance to the Tchaikovsky's Nutcracker ballet inspired soundtrack, including "Christmas is For Kids" by Michael Rapp ("Rasputin", "Masters of the Universe"). Alongside composing Christmas time favorites like "God Rest Ye Merry Gentlemen" and "The Holly and The Ivy", Rapp's "Christmas Is For Kids" has been a musical success since its release in 2015 with its achievement to reach the top of the Billboard and Nielsen charts, remaining at the competitive top of Billboard today.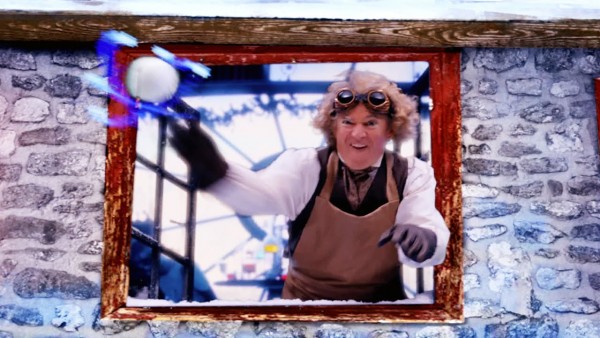 Kevin Sorbo narrates the audience through the family-fun and snowy journey with faith-filled words and lessons for all ages. Credited worldwide as an actor, writer, producer and director, Sorbo is best known for the 1995 series, Hercules: The Legendary Journeys, Gene Roddenberry's, Andromeda, What If…, and his directorial debut for the National Religious Broadcasters convention feature, Let There Be Light. With charming narration by the popular Sorbo, CHRISTMAS DREAMS provides the true importance of the holiday season – it is greater to give than to receive.
Get into the holiday season with Kevin Sorbo's personal Christmas wish here: https://vimeo.com/245423559 and deck the halls with the trailer for CHRISTMAS DREAMS here: https://vimeo.com/214451105.
CHRISTMAS DREAMS (2017, 80 min.) Directed by: Andrew Repasky McElhinney. Written by: Michael Rapp, Andrew Repasky McElhinney, Jenn Rose, Kim Lenny. Produced by: Nancy Foehl, Gene Fohel, Kim Lenny, Michael Rapp. Editor: Ron Kalish. Cinematographer: Cecil Thomas. Original music: Michael Rapp. USA, English. TriCoast Entertainment.
About TriCoast Entertainment:
TriCoast Entertainment is a U.S. theatrical distributor with direct output deals on most major streaming platforms. The company recently moved its studio facility to the Historic West Adams area of Los Angeles.
Founded by: Strathford Hamilton and Marcy Levitas Hamilton.
For more information, please visit: https://www.tricoastworldwide.com/ or connect on Facebook (https://www.facebook.com/TriCoastEntertainment), Twitter (@TriCoastEnt) or Instagram (@tricoastworldwide).
Media Contact
Company Name: TriCoast Entertainment
Contact Person: Jenna Wilen
Email: Send Email
Phone: 3104587707
Address:11124 Washington Blvd.
City: Culver City
State: California
Country: United States
Website: http://www.tricoastworldwide.com