EnterTalk & JackTrip Present a Virtual Musical Supergroup, Featuring Legendary Musicians Larry Dunn & Bunny Brunel
Legendary Musicians Larry Dunn and Bunny Brunel, Drummer Roger Friend and Guitarist Charles Julian Fearing performed JackTrip virtual collaboration technology during a live performance on January 27th, 2022; the event was co-sponsored by industry insider outlet EnterTalk.
Los Angeles, CA – July 28, 2022 – JackTrip Labs and EnterTalk partnered to host a one-of-a-kind musical showcase, powered by JackTrip's revolutionary Virtual Studio. Streaming on JackTrip Radio, it featured legendary musical icons 7-time Grammy winner Larry Dunn, 2-time Grammy-nominated bassist Bunny Brunel, 2-time Grammy/Emmy-winner Roger Friend, and Charles Julian Fearing. These musicians performed together live (remotely) from multiple locations and demonstrated groundbreaking, "real-time" musical collaborations, using high-speed, low-latency tools. The group of players connected with famed drummer Roger Friend for this hybrid experience.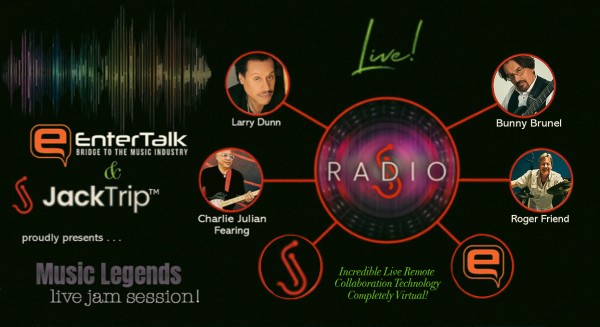 "I'm really looking forward to performing with the other great talents, all from my studio! This is an absolutely amazing development in audio technology, from a rehearsal and collaboration standpoint," enthuses keyboardist Larry Dunn, a driving force behind this event. "To be able to have credible sessions with musicians as far as 500 miles away is awesome!"
During NAMM 2022, using Jack Trip's technology, Grammy winner and virtual choir pioneer Eric Whitacre led virtual singers in the debut performance of his piece, "Sing Gently." A cloud-based platform, the technology allows musicians to perform in near-perfect sync while they are miles apart from one another. In the Virtual Studio, jams never sacrifice the experience of actually performing together.
"I was skeptical, I'm so critical about every sixteenth note being so precise. It was so tight and so much fun. I was blown away."—Roger Friend
Virtual technology has grown leaps and bounds in the last few years, but the JackTrip team has been working on their tech for two decades. Their dual focus on sound quality and speed means musicians who can't be together in the same place can still come together, forging connections that once seemed impossible.
"This will change the game for many musicians, possibly performing live shows in our separate living rooms while fans watch from the comfort of their own homes. In this pandemic world that we're becoming accustomed to, this is just the thing to bring music back in a big way . . . and all of us together again!"—Bunny Brunel
"[JackTrip] brings everyone closer together. There are opportunities for live concerts, for education. There are a lot of people in the virtual technology race, but JackTrip separates from the pack. You win if it's done right."—Charles Julian Fearing.
"Just the quality of the event rehearsal really blew me away," gushes JackTrip CEO Mike Dickey. "I really wanted to share this with as many people as possible."
Jack Dickey talks about recording simultaneously and how distance and the quality of the participants' internet connection play a big role in preventing a lag during a virtual live remote collaboration: "If you have a fiber internet connection, that seems to work the best so far. For example, if you're within 1000 miles from los Angeles and you're on a fiber internet connection, you can generally play really well with other people. We have people from San Diego, Los Angeles, and Seattle that are jamming regularly on the platform. If you don't have a fiber internet connection, then we found the radius is a bit smaller, anywhere from 500 to 300 miles. But that's still a lot further than having to be there in person physically with someone else."
This joint event between JackTrip and EnterTalk (entertalkmedia.com) was more than just a show, it was a sign of possibilities to come. "I love the idea that we can make it accessible for musicians that are rehearsing together, and I think there are a lot of people out there that would love to be able to participate in a session like that."
"It's the holy grail of internet jamming, giving you the ability to play, collaborate, write, or just have fun with people—even people you may not know and do that live. And that is a technology called JackTrip!"—Florentino Buenaventura of EnterTalk & The Changing Stage
The session on July 27th, was broadcast live at 2PM PST on JackTrip Radio, standing as proof positive of endless future opportunities
A LITTLE ABOUT THE MUSICIANS:
Larry Dunn helped transform Earth Wind & Fire into one of the all-time most successful R&B bands in the world with sales of more than 100 million albums worldwide, 7 GRAMMYs, 13 GRAMMY nominations, 4 American Music Awards, 32 Gold & Platinum/Multi-Platinum Records & Albums, a star on Hollywood's Walk of Fame, induction into the Rock and Roll Hall of Fame & Songwriters Hall of Fame, and the GRAMMY Lifetime Achievement Award, as well as other industry awards. Larry Dunn is Earth Wind & Fire's original keyboardist/composer/co-producer who co-wrote the only #1 crossover pop hit, "Shining Star." (larrydunnmusic.com)
A musician's musician, bassist/composer Bunny Brunel has two Grammy-nominations, one for his 9-year stint in Chick Corea (for Secret Agent) and for his own band CAB (for CAB 2). He is one of the founding fathers of the jazz bass fusion movement, has authored countless instructional books, designed basses for Carvin, Gibson, and ESP Guitars, including his own creation, the (BBEUB) Bunny Brunel Electric Upright Bass. Brunel has performed/toured/recorded with Herbie Hancock, Tony Williams, Wayne Shorter, Stevie Wonder, Natalie Cole, Tania Maria, and countless others. And he serves as the Editor at Large of the premier lifestyle magazine for bass players, Virtuoso Bass. (bunnybrunel.com)
Touring in more than 100 countries, Roger Friend is a high level, multi-faceted drummer and percussionist whose performed with Tom Jones, ABBA, Tom Scott, The Rippingtons, Bamboo Forest, BB King, Steve Oliver, Dweezil Zappa and countless others, he has won 2 Grammys and 2 Emmys (rogerfriend.com); and Charles Julian Fearing is a multitalented lead guitarist, vocalist, writer, producer, and arranger who has recorded with Michael Jackson, Tina Turner, Herb Alpert, Nancy Wilson, Lionel Richie, Bonnie Rait, The Crusaders, and Celine Dion.
To learn more about the company JackTrip, EnterTalk's Florentino Buenaventura interviews CEO Mike Dickey on The Changing Stage at https://entertalkmedia.com/the-future-of-musical-collaboration-online-jacktrip-ceo-mike-dikey-and-friends/. (https://jacktrip.radio/)
Media Contact
Company Name: First Take Public Relations and Consulting
Contact Person: Sean McKenzie
Email: Send Email
Country: United States
Website: https://firsttakepr.com