4th Edition of Dope Black Girls Brunch Honors Extraordinary Women in Media and Politics
Dope Black Girls Brunch encourages Black women to keep going when they need it most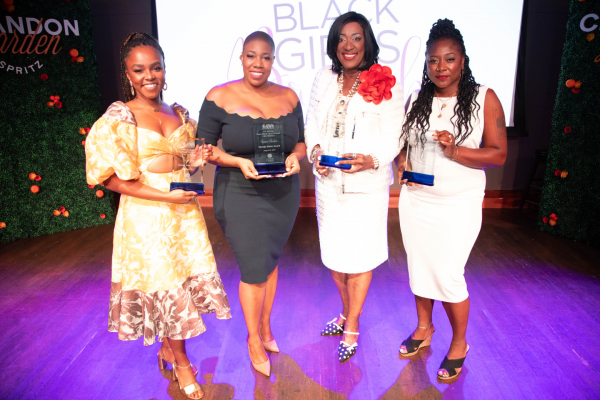 On Sunday August 29th, it was a lively scene at the Hamilton Live in the nation's capital as Color Vision and Black Girls Vote hosted the 4th edition of Dope Black Girls Brunch. The event is a fun-filled brunch that celebrates the accomplishments of Black women in politics, advocacy, media, and rising stars who are making a difference not only in their communities, but around the world. It is the biggest celebratory brunch on the East Coast honoring extraordinary women in media and politics.
This year's brunch was held during the backdrop of voting rights marches and protests. According to recent polling, Black women name voting rights, racial discrimination and education among the top issues they care about in the country. Black women are leading that charge and still pushing to protect the right to vote — making it even more important to celebrate them in this moment.
Black Girls Vote is a nonpartisan organization designed to represent the concerns and interests of Black women. The organization is invested in ensuring that Black women are empowered to advance education, economic development, quality health care and improve outcomes.
Hosted by political commentator and Real Housewives of Potomac star Dr. Wendy Osefo, the event recorded a large, COVID-safe turnout of over 200 women and it was a huge success.
The 2021 edition saw attendance from Rising Star Honoree – Gia Peppers, Changemaker Honoree – Symone D. Sanders, Trailblazer Honoree – Alicia Garza and Legacy Honoree – Reverend Dr. Gwendolyn Boyd.
Reverend Dr. Gwendolym Boyd in high praise of the event said, "This kind of sisterhood, that brings us all together, is necessary to change the world."
"We need to pour into the next generation of young people so they are comfortable in who they are," said Symone D. Sanders who was in attendance.
"If we aren't the people making sure that resources are going to our communities and where they are going we can't get justice," Alicia Garza commented. "Buy into what you believe to be true about yourselves and lean into it," Gia Peppers also added.
The brunch was hosted to encourage Black women to keep going when they need it the most.
About Color Vision:
Established by Mia Davis in 2017, is a woman-led empowerment organization with a mission to improve fairness and equity in creative industries. The organization's aim is to support women of color with training, mentorship and scholarships to gain access to equal opportunities in employment, business, and higher education.
For more information on Color Vision, visit their website – colorvisioncreates.com
About Black Girls Vote
Black Girls Vote (BGV) is a national, nonpartisan organization with an objective of engaging, educating, and empowering Black women, particularly those 18-25 years old, to activate their voice by utilizing their vote. It is our mission to inspire Black women to use the political process to improve the quality of life for their families and the collective community. Follow us @BlackGirlsVote.
Visit www.BlackGirlsVote.com for more information.
Color Vision
Mia Davis
[email protected]
Media Contact
Company Name: Black Girls Vote (BGV)
Contact Person: Crystal Amuzie
Email: Send Email
Country: United States
Website: http://www.blackgirlsvote.com