Amelia Lo of Harvard College – Inaugural Recipient of the Patrick Henry Maddren Scholarship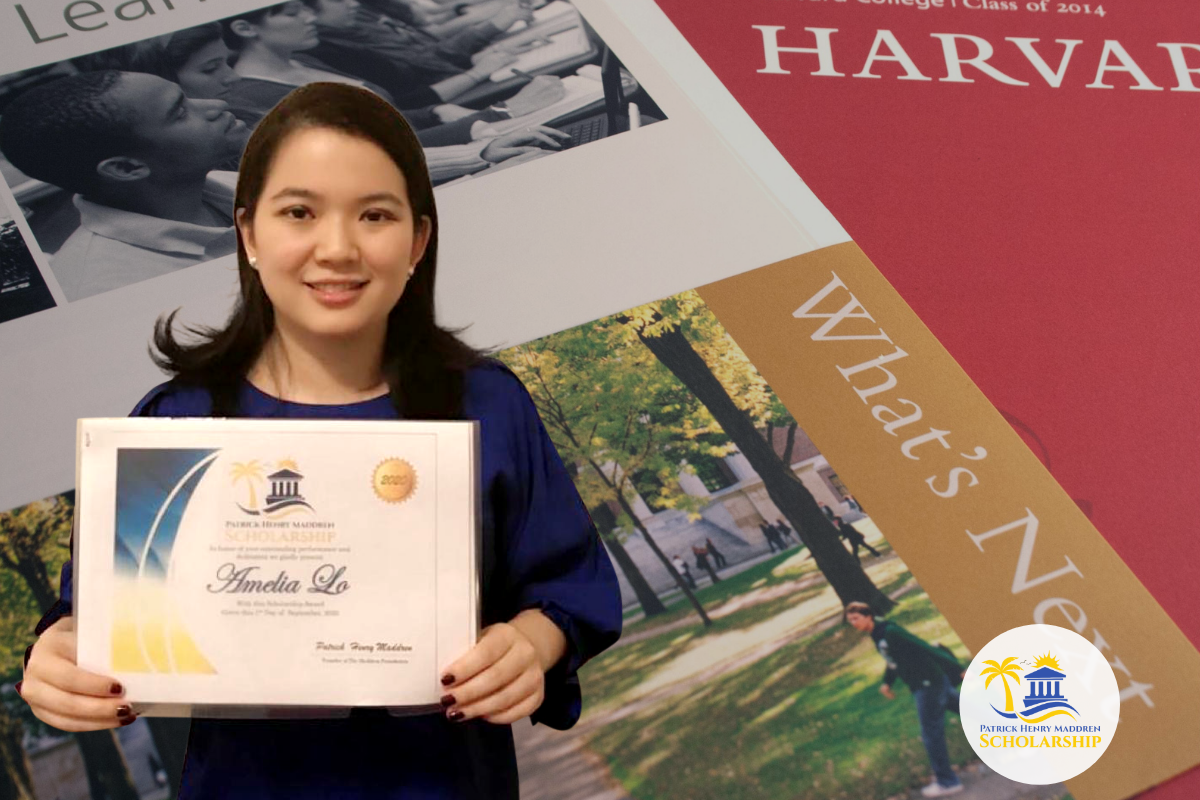 Student leader celebrates winning the Patrick Henry Maddren Scholarship.
The Patrick Henry Maddren Scholarship committee excitedly announced the two recipients of its 2020 award, one of which is an attendee of the prestigious Ivy League institution, Harvard College. Amelia Lo has excelled in her academics throughout her career and is in the process of continuing her education as she attends the Harvard T.H. Chan School of Public Health.
"The essay prompt for our scholarship was not an easy one, but rather one that required critical thinking and problem solving," founder Patrick Maddren stated. Applications for the Patrick Henry Maddren Scholarship included a segment where students would submit an essay with their best resolutions for the student loan debt crisis. In Ms. Lo's essay she discussed in depth the rising costs of a college education including the effects of inflation. "The cost of an undergraduate degree has risen by 213% in public schools and by 129% in private schools," she declared. Amelia then went on to provide strategies for tackling high tuition costs and housing expenses with solutions including increased acceptance of online education. "One of the things that jumped out to our scholarship committee most was that Amelia addressed what I have long believed to be one of the biggest catalysts for the student debt crisis – lack of financial education," Mr. Maddren said while discussing Amelia's essay. In her submission she reviewed the importance of helping students by ensuring they are taught the importance of money management and financial skills including saving techniques, daily budgeting, and basic investing tips.
Lastly, Amelia provided a third solution that included the government enacting legislation to incentivize employers to contribute to repayment of their employees' student loans by granting the employers a subsidy or tax deduction as a reward for their contributions to the debt repayment. "Given that college prepares us for work, it is reasonable that the employers who reap the benefits of the college degree contribute to it," Amelia stated.
Founder Patrick Maddren went on to say, "our entire team was impressed with Amelia's resume as well as her essay and we are proud to congratulate her as one of our inaugural scholarship recipients." Ms. Amelia Lo, esq has published articles for the America Bar Association and the New York State Bar Association. She has also been awarded scholarships in Latin dancing, piano, public speaking, and singing. Amelia plans to continue her education to obtain a Master of Public Health at Harvard's School of Public Health.
The Patrick Henry Maddren Scholarship awards $2,000 to two students annually. For additional information on the Patrick Henry Maddren Scholarship, the eligibility requirements, and how to apply students can visit the official Patrick Henry Maddren Scholarship website.
Media Contact
Company Name: The Patrick Henry Maddren Scholarship
Contact Person: Patrick Henry Maddren
Email: Send Email
Country: United States
Website: https://patrickhenrymaddrenscholarship.com