"Let's Remake A Movie" Podcast By Connor Finnerty And Friends Becomes Movie Lovers' Favorite Podcast
Movie podcast, Let's Remake A Movie has recently ranked as one of the most favorite podcasts of movie lovers' looking for creative and fun analysis of great movies. The podcast which was created by four friends; Connor Finnerty, Josh Opitz, Sean Baldwin and Laura Darling was created to mash up their favourite movies, giving fans a whole new experience and answering questions that were never asked but needed to be answered.
This whole idea was birthed in March of 2020 after Connor lost his job during the lockdown. In shock, like everyone was at the state of the world, he and his friends decided to get together (virtually) to do what they loved the most – talk about movies. They wanted to talk about insane ideas about how they could mash up movie ideas and share them with the world.
According to the team, 'You know those great ideas you get at 2 a.m. when you've had a little bit too much to drink? And, you think: "Eureka. This is a winner!" Welcome to Let's Remake a Movie! Where we've taken mashing up movies for a laugh and elevated it into an art form.' Currently, there are 12 episodes of the podcast available on Spotify, Apple Podcasts, Google Podcasts and Stitcher. Episodes that have been featured on their podcast include:
• The Shining starring the family from Christmas Vacation (Overlook Vacation)
• Indiana Jones but the bad guy he fights is Joe Exotic (Indiana Jones and the Tiger King)
• Inception but Seth Rogen gets high and invades people's dreams (In-Seth-Tion) and
• Harry Potter skips school like Ferris Bueller (Harry Potters' Day Off)
To name a few.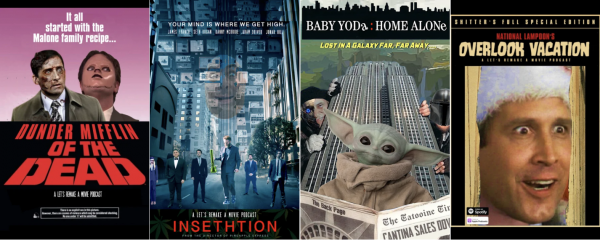 Fans can listen to any of the available episodes right now, but the Let's Remake a Movie gang is offering an exclusive bonus episode. By signing up using this link, fans get "Ghosts of Batman Past," an exclusive episode available only to subscribers. They can follow along as Robert Pattinson, DC Comic's latest Batman, is confronted by the ghosts of Batman past as he struggles with second thoughts about donning the bat-eared cowl.

They will get answers to questions such as, ''Which Batman used his costume for bedroom roleplaying?'' 'Who was the worst Batman?' 'And why pornographic fanfic is the inevitable future for every actor who plays Batman.' Subscribers can be the first to find out when new episodes launch, get behind-the-scenes access to all the hijinks that go into making Let's Remake a Movie and meet the four goofy friends who came up with the idea.

Connor Finnerty is a writer, musician, marketing guru, and movie buff. He fell in love with cinema because of the movie, Raiders of the Lost Ark. Josh Opitz is a musician, tech savant, and movie buff with an unhealthy obsession over Nicolas Cage rants. He can be found in various projects online as he enjoys constantly tapping into his creative side. Sean Baldwin is an actor and movie buff who sets his cinema taste within the Saw and Final Destination franchises. He recently received an Emmy for his background extra role in "Penn and Teller: Off the Deep End". Laura Darling is an actress, theatre director and also a lawyer.

For more information, visit their website, www.letsremakeamovie.com. To listen to the podcast check out Spotify and Apple Podcasts.

To subscribe to the email list and receive the Bonus episode, Ghosts of Batman Past, click here.
Media Contact
Company Name: Let's Remake a Movie
Contact Person: Connor Finnerty and Josh Opitz
Email: Send Email
Country: United States
Website: https://letsremakeamovie.com/