Lojai's Foot Oil Announces Collection of Foot Oil Treatment and Hair Growth Oil Products Made From Essential Ingredients
Washington-based cosmetics maker launches LoJai's Foot Oil products collection to help people with dry feet, and other concerns get fast relief within a few days of application.

LoJai's Foot Oil announces the launch of their line of foot oil treatment and hair growth oil made from all-natural, high-quality ingredients. The products are for people who're having dryness, itching, and physical discomforts on their feet. It also helps moisturize the skin, body and transform the feet, making them look more attractive and elegant.
Since the product's release to the general public on Sunday, June 20th, 2021, there have been encouraging and inspiring testimonies of the oil's powerful effect and very noticeable transformation in only a few days of application.
"Today, I tried LoJai's Foot Oil, and I can honestly say happy feet, happy client," said a customer from Washington DC. "Yes, it does have an essential oil scent for anyone asking but once rubbed into your skin, you will immediately feel a soothing difference. I now use it on my entire body."
LoJai's Foot Oil has released four different products so far on their online store including, Mr. LoJai's Foot Oil, Mrs. LoJai's Foot Oil, Foot Treatment, and Hair Growth Oil. Clients can shop for any of these products by adding them to the cart and going to checkout. In addition, the company offers priority shipping that helps to get products to customers fast and efficiently.
Foot massage works better when done with oils. LoJai's Foot Oil has all the properties and natural ingredients that make it the perfect companion for a rewarding foot massage. A 10 to 15 minutes foot massage daily will help promote blood circulation, lower blood pressure, and improve sleep. In addition, feet become softer, and there is less foot pain.
"I don't have foot concerns, but I love the luxurious feeling of my feet and hands when I use this oil," said a customer from Virginia Beach.
LoJai's Foot Oil is excellent for personal use when couples can massage their feet in turn. Salons and spas can also use it for professional foot massage, pedicure, and reflexology treatment for their customers.
For more information, please visit https://lojaisfootoil.bigcartel.com/.
About LoJai's Foot Oil
LoJai's Foot Oil is a range of products designed for the treatment of the feet. The company is based in Washington DC, but they have an online store where customers can shop and get products delivered to their homes, anywhere in the US. The company desires to have clients who are happy with their feet after using the products.

Social Media Pages:
Instagram: @lojaisfootoil
Facebook: LoJai's Foot-Oil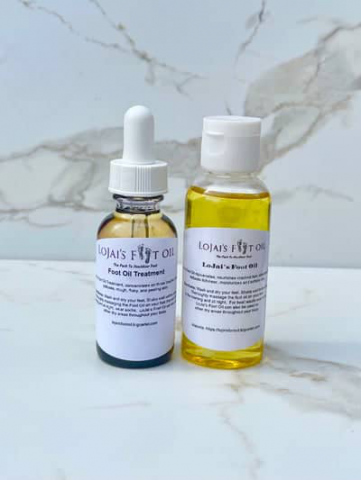 Media Contact
Company Name: LoJai's Foot Oil
Contact Person: Lo Jai 
Email: Send Email
Country: United States
Website: lojaisfootoil.bigcartel.com