A Korean Company Servore has Come up with a Welding Mask that Protects the Health of the Welder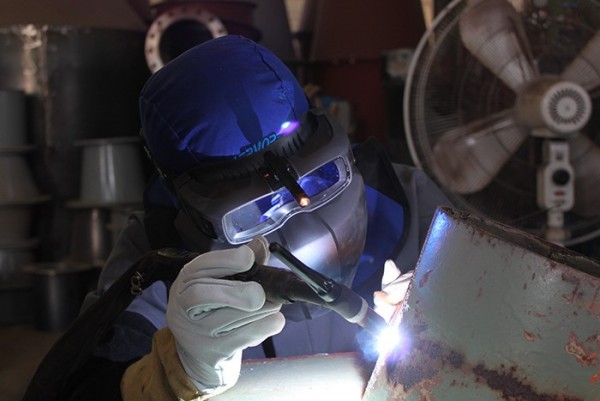 It is recommended to wear welding protective equipment to prevent accidents or health hazards during welding work. Welders are exposed to various harmful substances such as gas, dust and noise at sites, and thus fundamental safety measures such as improving the work environment and work methods must be taken to protect workers; however, the welding environment facility verification is not executed well. Therefore, welding workers must wear personal welding protection as a last resort to protect themselves.
It must be easy to work with the welding mask on and the mask should be able to protect workers from harmful substances while not giving a harmful effect on the worker. In addition, it is recommended to choose a mask with a light shield with a wide field of view and a one that's easy to wear.
However, among the provided protective equipment, the ones which can prevent spatter or sparks is quite heavy, so welders commonly suffer from musculoskeletal disorders. General safety glasses do not properly prevent harmful rays and are difficult to wear with a hard hat, meaning there has been no welding mask that satisfies all these conditions so far.
Recently, a Korean company that manufactures welding mask is attracting attention by putting the welders' safety first. Servore specializes in welding safety equipment, has developed the world's first welding mask that can be worn with a hard hat and is easy to use and light.
Servore's Arc Shield-2 comes in a relatively small size without the forehead part of the arc shield face, so that you can wear a hard hat along with the welding mask. Moreover, it is possible to combine the hard hat and the arc shield using a patent-pending hard hat bracket. This hard hat bracket has the advantage of easy replacement with the goggle headband and convenient combination of the hard hat. It is welcomed by many welders, saying that it is convenient to wear a hard hat with the same lightness and stable mounting.
A Servore official said, "As we put welding workers first, we strived to develop the world's first welding mask that can be combined with a safety hat."
Unlike other conventional products, Arc Shield's goggle skirt wraps around the eyes and prevents backlight from entering during welding, providing a clear hence safe welding screen.
In addition, even in difficult welding postures or welding angles, there is no discomfort due to the fact that the Arc Shield fixed by the band and the skirt does not slip off or tilt, which again shows the superiority of the product.
An official from Servore said, "We are currently exporting to 20 countries including the US, Japan, Europe, the Middle East, and Asia. To discover more partners and buyers, we participate in famous overseas exhibitions such as FabTech in the US, A+A and Essen welding shows in Germany, and export consultation. We are trying to expand to overseas markets through our efforts and "Welder Manufacturer-Miller" is selling and promoting arc shields in the North American market as our sales partner.
Media Contact
Company Name: SERVORE CO.,LTD
Contact Person: Mr. Jeong Min, Seo
Email: Send Email
Phone: +82-31-684-6952
Country: South Korea
Website: www.servore.com