Navanter, Founded by Neil Shorney, Delivers Unique Methodology, Sales-PM Fusion™, Allowing More New Deals and Increased Revenue From Existing Clients
Earning success in sales is often considered more a matter of preparation over being lucky enough to be in the right place, at the right time.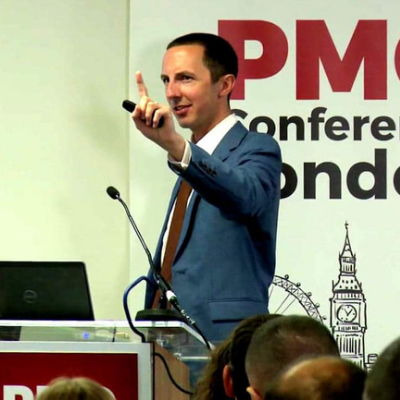 But it goes far beyond that. The business world has long-acknowledged a huge disconnect between what are arguably the two most important sides of any solution-focused organisation: Sales and Delivery. Navanter, an organisation founded in 2011 by Neil Shorney, was formed to help salespeople sell more effectively, and in 2021 the company announced the release of their unique, new methodology which bridges this gap known as Sales-PM (Project Management) Fusion

!
Since its inception, Navanter, a Latin word meaning "with zeal and enthusiasm," has moved more and more towards developing Sales-PM Fusion

. The gap that existed in the sales training market, explained in more detail, is the continuation of winning customers beyond the close of the deal and includes the people who then deliver the solution.
Neil Shorney, Founder and Chief Possibility Officer at Navanter, is an award-winning international sales trainer, engaging speaker, and renowned sales expert who has brought his cutting-edge sales approach to professionals from five continents. Having been in the business for years, Shorney recognized that salespeople often have a particular area of expertise including consulting skills, solution development and persuasive skills, while project managers' skill-sets typically involve other proficiencies, including the ability to work towards a longer-term goal, to work in an action-focused manner, and to break large tasks into smaller segments and prioritize accordingly. When these skills are combined, it becomes a powerful force across the organisation. The issue is, these skill-sets aren't commonly combined and therefore many sales that have been made aren't delivering maximum results. Thus, opening the door for a much-needed solution like Sales-PM Fusion

.
The purpose of Sales-PM Fusion

is to enable organisations to close more new business, delight customers and earn even more revenue from their current client base. Through Sales-PM Fusion

, Navanter was able to look at business development from the point of first contact with the customer straight through to the implementation of the solution that was sold, by delivery teams and project managers. By taking this approach, salespeople are able to have a much more structured and effective approach to selling, delivery teams are able to implement the solution with a more customer-centric focus, and delighted customers move on to become advocates of the selling organisation.
When salespeople are given project-based skills, their ability to increase the size of their business and gain more complex sales becomes greatly enhanced, as does their ability to take a more strategic and predictable approach to business development. Giving classic sales skills to project managers augments their ability to understand the drivers behind customer needs and therefore allows them to support all aspects of project delivery. The organisational effect that Sales-PM Fusion

provides is one of a seamless experience for customers from sale through to solution delivery. Customers are more satisfied, and a mutual appreciation between sales and delivery creates a team-driven approach to growing future business from satisfied customers.
With a mission of showing the world that there simply is a better, more effective, way to sell, Sales-PM Fusion

is a timely, cutting edge solution that is perfect for organisations seeking results-driven programs that will provide unity among their teams internally, elevate their current level of business, and take their organisation to the next level. By bringing strategy and vision together, the possibilities are truly endless, and Navanter is leading the way!
ABOUT THE INDUSTRY LEADER
Neil Shorney, Founder and Chief Possibility Officer at Navanter, is an award-winning international sales trainer, engaging speaker, and renowned sales expert who has brought his cutting-edge sales approach to professionals from five continents. Neil found early sales success generating new business at a tech start-up and his career took off working as a key sales leader for London-based global information powerhouse, Informa plc. He won three awards, for developing sales talent, creating sales career paths, and for breaking revenue records. Later, Neil split his role between leading the sales team and being a project management training consultant. During this time, Neil gained valuable insights into similarities and differences between sales teams and project delivery teams, realizing possibilities existed by bringing skills of these two sides of the business closer together. Neil founded Navanter in 2011, to show the world a better way to sell, through his unique fusion of cutting-edge sales techniques with the skills of top project professionals.
Media Contact
Company Name: TMSP Agency
Contact Person: Mark Stephen Pooler
Email: Send Email
Phone: +447930691683
Country: United Kingdom
Website: https://contactmark.me/