Baxel Data Systems Announces Cue Player One Software Offering One Operator Performing Arts Technical Production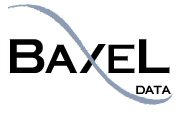 The stage and theatre production software makes production easier, with cueing for sound, light, and video in one place. Stage managers can now run the performance themselves or give calls to only one other person
Rochester, NY – The new "Cue Player One" software by Baxel Data has just been released and it promises to revolutionize production in theater arts and event planning. The software is a one computer, one cue list, one operator solution to performing arts technical production. It combines the best features of the company's standalone sound and lighting offerings into one convenient package.
It is common knowledge among stage producers that theater production is challenging. With events holding live these days, cueing for sound and lights has to be done correctly. It is often calamitous for a stage manager to miss a beat as this might ruin the entire production. Prior to the introduction of Cue Player One, stage managers have had to manage by working with several different operators in a bid to deliver satisfactory performances at events. However, with the introduction of Cue Player One, stage managers now have access to all the tools and facilities they require to put together stunning shows right from their own computers.
Cue Player One software is a program that makes life easy for technical directors and stage managers. Using the interactive dashboard, one operator can control video, light, accessories, sound, and projection on one computer. It allows users to enjoy smooth, accurate, cue to cue control of everything. Achieve quality production output without stress using software that hundreds of people trust and recommend.
Cue Player One gives users access to a plethora of lighting consoles and standalone sound playback features. The team at Baxel Data recommends Cue Player One to technical directors, stage managers, and performing arts production staff. The software has earned many positive reviews for its affordability and capacity to completely offer theater support without the need for additional equipment.
Dave Baxter and his team spent years developing the Cue Player family of software to meet the demands and challenges of stage and theatre productions. There are manysuch programs out there that don't deliver to expectation or are just too complicated. Cue Player One software is exceptional because it is written by Baxter, who is a theatre practitioner. All of the features in the software are created from experience and understanding of everything needed to deliver quality stage and theatre production.
For more information, please visit www.baxeldata.com.
Watch these videos on YouTube to see how it works.
Media Contact
Company Name: Baxel Data Systems
Contact Person: David Baxter
Email: Send Email
City: Rochester
State: NY
Country: United States
Website: http://www.baxeldata.com