#1 International Best-Selling Book Takes the World by Storm – The Q.U.E.E.N Xperience movement is FIRE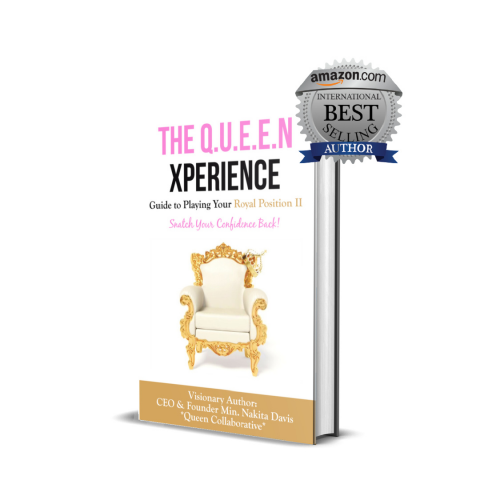 Min. Nakita Davis, CEO & Founder of Jesus, Coffee, and Prayer Christian Publishing House LLC; is setting this holiday season brighter than a Christmas tree with her EPIC trail of faith, empowerment, collaboration, and success ALL 2020.
Now her team continues the torch with their 4th Queen collaborative book of 2020: The Q.U.E.E.N Xperience Guide to Playing Your Royal Position ll: Snatch Your Confidence Back!
This chart topper debuted #1 in the US, UK, Canada, & Australia, hitting International Best-Selling Status in less than 15hours on Pre-Order! In total, Min. Davis and her affectionately called 'Queens,' Snatched a combination of 22 International and National Amazon Hot New Release and Best-Seller Spots across the globe in 11 different categories! As a part of The Q.U.E.E.N Xperience series; this book project, is designed to inspire, encourage, and challenge Women of Faith to Drop the excuses, Play Their Royal Position, and Live out their God-Sized Dreams!
With continuous winning results like these, its obvious that Jesus, Coffee, and Prayer Christian Publishing House LLC. and its Queen Coauthors are doing just that!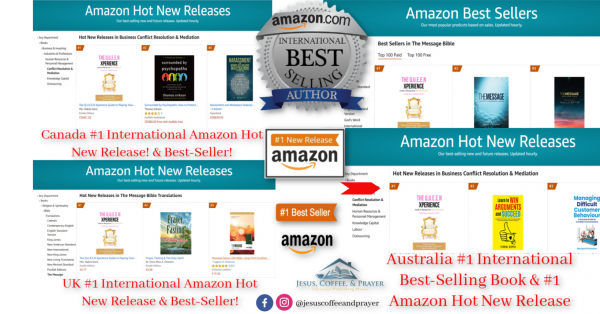 Min. Nakita Davis gives a huge congratulations to her 2020 #1 International Best-Selling Queen CoAuthors:
Charcora Palmer, Tina Ramsay, Jenelle Harris, Tracy Tate Jones, Stephanie Moore, Norma Reeves, Jessie Jamias, Ebony Walker, Magriet Potgieter, Tina D. Lewis, Sheri Curran, Akya Canada, Cherish P. Jackson, Mala Kennedy.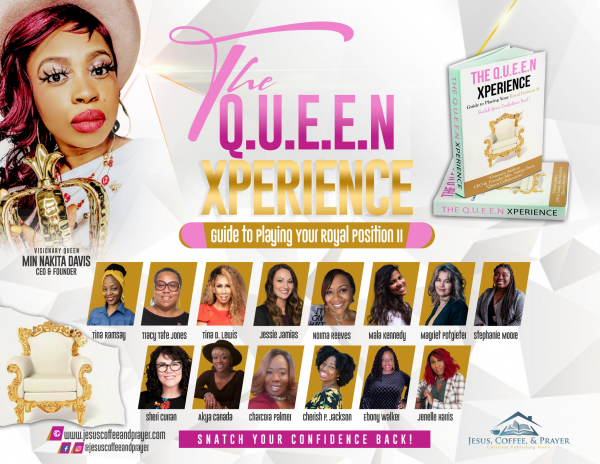 But if you think that's all, Min. Davis often posts the hashtag: #WatchGodWork. In other words, her team is nowhere near done.
In addition to providing an exclusive platform for 14 other women to become International Best-Selling Authors (Majority for the 1st time.) The Q.U.E.E.N Xperience also honors extraordinary global leaders, girl bosses, influencers, authors, speakers, women of Faith, and those making an IMPACT in the earth. The Q.U.E.E.N Xperience honors the Top 2020 Women of Influence.
Min. Davis says "If you are not connected to these Women; you need to be!"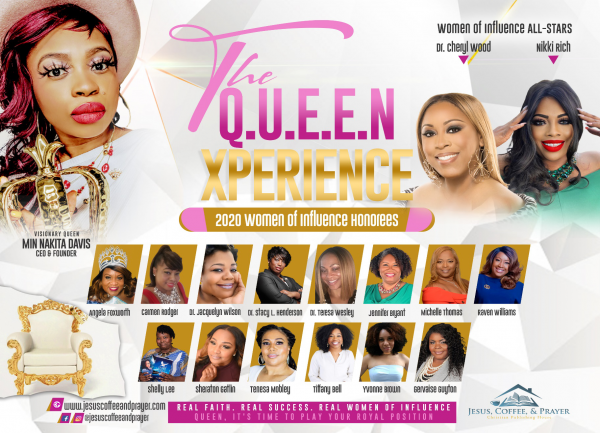 2020 Women of Influence Honorees
Women of Influence All-Stars
Dr. Cheryl Wood is a TEDx Speaker and the CEO of VOCALIZE Women Speakers Academy. Additionally, she is an international empowerment speaker, 12x best-selling author, and master speaker development coach who equips entrepreneurs with the tools to unleash the power of their voice and transform other people's lives with their story.
Nikki Rich is the CEO of The Nikki Rich Show, a Red-Carpet Host and TV personality to the STARS, an official Oprah Winfrey Network Ambassador, Forbes Culture Member, and International Best-Selling Author. Interviewing A-lister Celebrities such as Billionaire Tyler Perry, Heavy Weight Champion Mike Tyson, Vivica Fox and countless others.
Women of Influence
Tiffany D. Bell, Tenesa Mobley, Angela Foxworth, Sheraton Gatlin, Michelle Thomas, Yvonne Brown, Raven Williams, Dr. Jennifer Bryant, Gervaise Guyton, Shelly Lee, Carmen Rodger, Dr. Jacquelyn Wilson, Dr. Stacy L. Henderson, Dr. Teresa Wesley.
If you are a serious Author, Speaker, Girl boss professional or aspire to be in 2021; it is obvious that you need to get connected to The Publisher of Purpose AKA The Atlanta Book Hit-Maker: CEO & Founder of Jesus, Coffee, and Prayer Christian Publishing House LLC. Min. Nakita Davis NOW.
Follow on FB & IG @jesuscoffeeandprayer
Media Contact
Company Name: Jesus, Coffee, and Prayer Christian Publishing House LLC
Contact Person: Min. Nakita Davis
Email: Send Email
Phone: (1) 833.333.0733
Country: United States
Website: www.jesuscoffeeandprayer.com