Country Singer's Covid-19, Global Anthem Has Two Missions
"Globally We Sing; Erase 19" Is An Anthem Dedicated To The 'Virus-Killers' At AstraZeneca, Eli Lilly, GlaxoSmithKline, Johnson & Johnson, Moderna, Merck and Pfizer, Working To Eradicate COVID-19 – But It's Also An Anthem On A Global Mission
LOS ANGELES, Calif. – Oct. 26, 2020 – While dedicated to the "virus-killers," aka the best and brightest research professionals at the world's leading pharmaceutical and biopharmaceutical companies, who're working to eradicate the pandemic from our global existence, "Globally We Sing; Erase 19," is also an anthem on a mission. That mission is color-blind, says the anthem's songwriter, Temperance Lancecouncil, a black, female, country singer. The singer-songwriter says, "My song's mission is to unite the world under one umbrella of solidarity, and to evoke pride and support for the world's heroic research scientists, virologists and medical professionals – the 'virus killers.'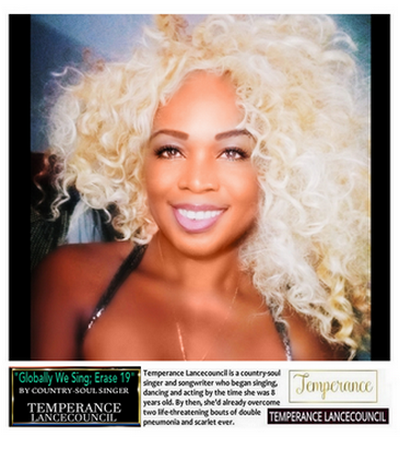 "Globally We Sing; Erase 19," the mission-driven, global anthem starts with Lancecouncil, a former actress and television pundit, asking the world to sing along with her. She explains: "It's because I want every global citizen to be able to mouth or sign those words, because we are on this mission together. A mission that's comparable to a Star Trek or Twilight Zone episode, with our science and medical health warriors on the front-lines, battling the enemy invader." That's precisely why it's being dedicated to them, and being tagged as the definitive, global anthem. "It takes a village, as the saying goes. I felt emotionally propelled to pen it and sing it in the soulful way that I did, but it's a universal, non-partisan, song of unity, hope and solidarity. I wrote it for the global domain," explains Lancecouncil, one of a few women of color in country music.
Her song's mission is exactly that of past anthems, "We Are The World" or "That's What Friends Are For," and that was to unite society in a blanket of global solidarity. Although extremely popular songs of yesteryear, both might require a Google search for some, but they've stood the test of time. The Los Angeles-based, country-soul singer went on to say: "I see my song making a mark today. It's well written and can now be used as a universal world anthem. All world leaders are welcome to it. It's for Chancellor Angela Merkel; Presidents Emmanuel Macron, Donald Trump, Vladimir Putin; and Prime Ministers like Boris Johnson or Benjamin Netanyahu – or any municipal leader who might want to use it at a press conference. Former Vice President Joe Biden is more than welcome to it. I'm even sending a CD to my mayor, Eric Garcetti," said the American singer.

There's a personal angle involved. Having being ravaged by, and surviving her own near-death experience with childhood scarlet fever, she says she carefully selected the term 'virus-killers' to describe the heroic medical professionals at such companies. What's ironic, she reveals, is that many years ago, she worked for St. Jude Medical, a global healthcare company, before it was acquired by Abbott Laboratories. Additional companies are said to include Novartis, Bristol Myers Squibb, Sanofi, AbbVie, Amgen Evotec, KSQ Therapeutics, Roche, Takeda, Vir Biotechnology, Boehringer Ingelheim, bioMerieux, Eisai, Gilead, CanSinoBIO and Evotec.
When asked about the competitiveness surrounding all of the companies, she says that's a good thing. "As a former cheerleader, I love competition, that desire to fight for a winning outcome, and one can hear that same "we-can-do-it" attitude in the song's lyrics. Some have agreed to work together in the fight. I'm cheering for their wins, via this song. It's team effort and spirit at the highest level," she says with a smile. Some have already compared her to country singer, Mickey Guyon, another black woman, but she says their styles are vastly different. Having been the only black on a cheering squad, she says being in that rare group of black, female country singers doesn't really bother her. She ends by jubilantly saying how honored she'd be if the anthem were played at a Nobel Prize ceremony, when they start awarding prizes to the "virus-killers." She exclaims, "Now that's a rarity I'd love to cheer about."
As a charity single, profits are earmarked to help organizations fight the pandemic in undeserved countries. It's available on all streaming services: https://songwhip.com/temperance-lancecouncil/globally-we-sing;-erase-19
ABOUT TEMPERANCE LANCECOUNCIL
Temperance Lancecouncil is an American, country-soul songstress and songwriter in Los Angeles, CA. She's also worked as an actress, and has appeared as a television commentator on FOX News and CNN.
Visit: https://www.camdenmonthly.com/singer-songwriter-temperance-lancecouncil-releases-new-single-globally-we-sing-erase-19/
Media Contact
Company Name: TEMPERANCE LANCECOUNCIL
Contact Person: Victoria Lewis
Email: Send Email
Phone: +1-424-702-1660
State: CA 90272
Country: United States
Website: https://songwhip.com/temperance-lancecouncil/globally-we-sing