How to find lasting love without looking for it?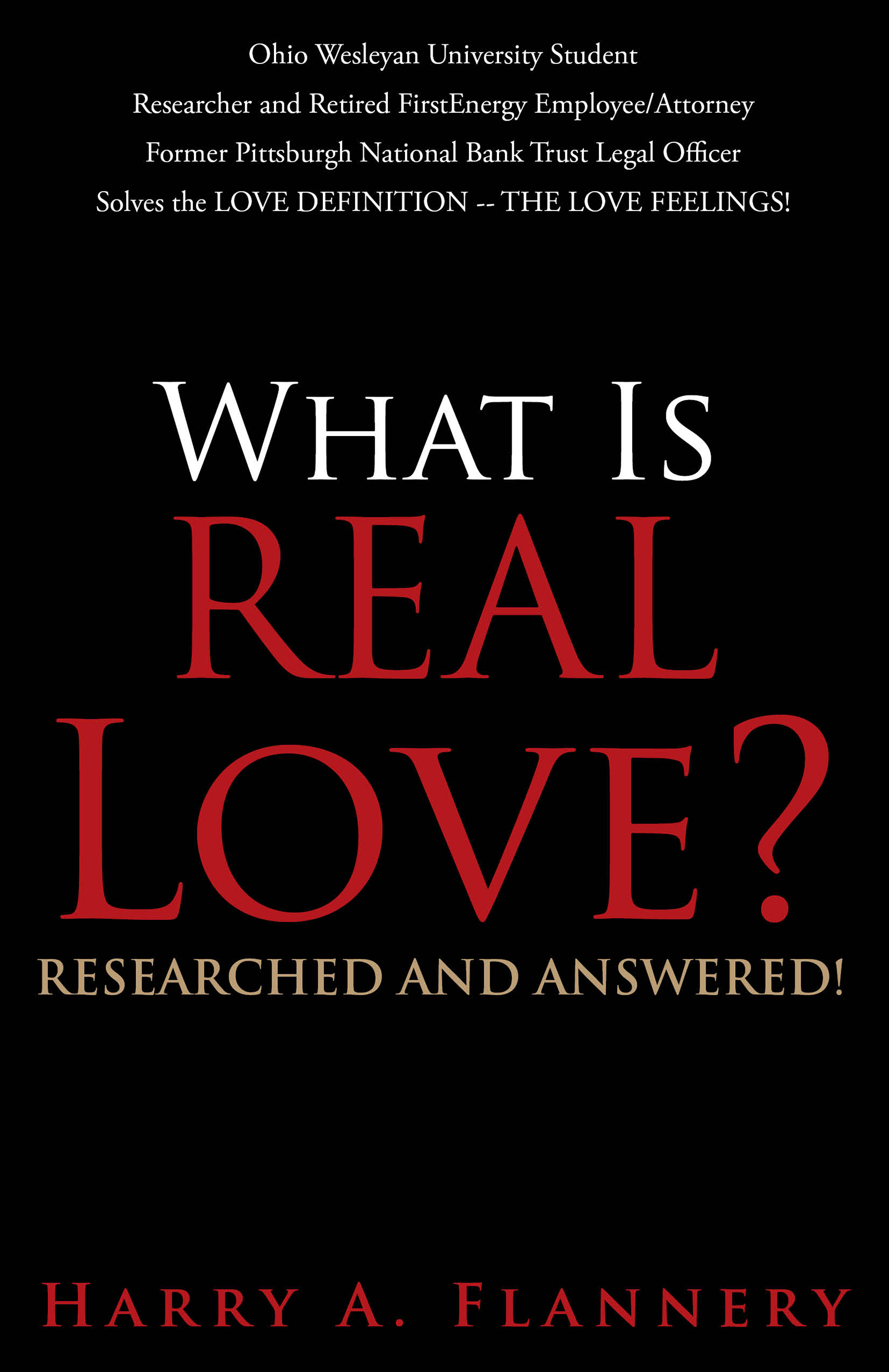 NEW CASTLE, Pa. – October 6, 2020 – What in fact is "real love"? In this book, "What is REAL Love? Researched and Answered!" by author Harry A. Flannery, the questions and the life-long quest for true and authentic love is finally revealed. Written as a college student when experiencing love, Flannery sought to research and understand the what and whys… with updates over the years.
Ground-breaking and provocative, Flannery wrote this book that conclusively confirmed a successful relationship, and his research of what LOVE truly means. The reader will grasp the meaning and reasoning for the existence of the "Love Feelings".
When asked to define what "real love" is, even the experts have to pause and think. Perhaps it's because "real love" has different meanings for different people. Yet Flannery defines real love in a more definitive and conclusive approach.
The book contains anecdotes and personal letters that Flannery penned to his found love more than fifty years ago, reflecting the feelings of tenderness, warmth, passion, desire, unconditional affection, regardless of good times and hardships.
"What is REAL Love?" takes us into the author's adorable love story and how it includes admiration, respect, and care to a lifetime partner through all the years. The book also reveals some life circumstances and the strengthening power that becomes the glue that keeps a couple together.
Flannery writes with conviction and authenticity that reading his book will make readers renew or reinforce one's faith in love, while examining the different literature, history and ancient writings about love. In fact, readers will learn whether their love is REAL.
A past college president, R. Thomas Williamson, is just among the many who were enthralled by Flannery's writing, as it speaks volume about love that keeps us hooked up until the final page.
For more information about Flannery and his other works, visit his website at www.harryflannerybooks.com.
"What is REAL Love?: Researched and Answered!"
By Harry A. Flannery
Kindle | $3.99
Paperback | $12.99
Available at URLink Print and Media, Amazon, Barnes & Noble and other online book retailers
About the Author
Harry A. Flannery is a graduate of five learning institutions, having been awarded a Bachelor of Arts degree from Ohio Wesleyan University; the degree of Juris Doctor from Ohio Northern University College of Law; and a Master of Laws (in taxation) from the Boston University School of Law. An author of over 40 articles published in national, state and local periodicals, Mr. Flannery is a former Associate Editor of the Pittsburgh Legal Journal. He authored the books "LOVE Marriage Divorce or Happiness" and "LOVE: Sex, Marriage, Divorce, or Happiness?" under the pen name Grant Stinn, Esq. He is also the author of the book "Are You Predestined?: The Words of John Calvin and Martin Luther Compared… Including an Extensive Bibliography" (WestBow Press, a Division of Thomas Nelson & Zondervan) and the book "RAPE: The Whole Truth and Nothing but the Truth, So Help…!" (Edgewood Press, a Division of Word Association Publishers).
Media Contact
Company Name: URLink Marketing | URLink Print and Media
Contact Person: Media Relations
Email: Send Email
Phone: 1-888-980-6523
Address:1603 Capitol Ave., Suite 310
City: Cheyenne
State: Wyoming 82001
Country: United States
Website: www.urlinkpublishing.com/