New App OXO Re-invents Tic-Tac-Toe as a Multiplayer Game with AI Mode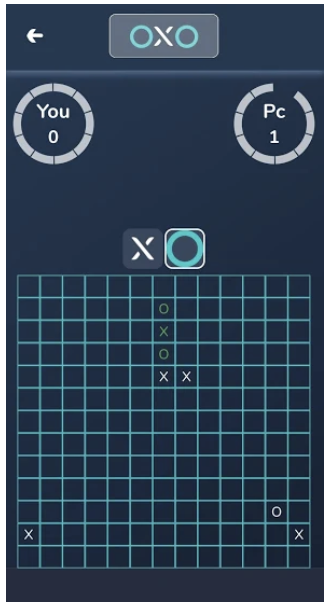 October, 2 2020 – Technology and app makers are reinventing many old hobbies and games, and the latest to join the list is everyone's favorite childhood game of Tic-tac-toe or Noughts and Crosses! App maker Clark Vansteensel has re-invented the game as OXO, and the OXO app is now available for download for Android and iOS.
The innocent joys of the past can be enjoyed again on the free OXO app, where the aim is to form a sequence of o-x-o on any row or column. A brain stimulating game with a simple aim, the OXO app brings a host of new features and game modalities – play it online against a friend or family on the same device, match wits with artificial intelligence in a solo game, or play group competitions with players around the world.
OXO allows not only a simple 3×3 grid, but larger and more complex grids too, where the players are supposed to make maximum sequences. Each player takes turns, and can continue to play on after succeeding in creating a o-x-o sequence.
"The OXO app will bring back memories of the good old days for everyone, while also creating a competitive platform for global players. The app has been tested and designed to make playing the old Tic-Tac-Toe even more fun in this new avatar," said app inventor, Clark Vansteensel.
OXO also allows users to invite other players and challenge them for a game. Apart from fun and networking, the game is also good for gentle stimulation of the mind, helping improve clarity of thinking and concentration.
The OXO app is free to use and carries in-app purchases. The Android version required is 5.0 and above, and iOS 12.0 or later for iPhone. The app is also compatible with iPad and iTouch.
Download OXO for Android: https://play.google.com/store/apps/details?id=com.oxogame.oxo
Download OXO for iOS: https://apps.apple.com/us/app/id1522446342#?platform=iphone
Download OXO for ipad: https://apps.apple.com/us/app/id1522446342#?platform=ipad
For more information, please visit: http://clapps.be/oxo-game/
Media Contact
Company Name: Clapps
Contact Person: Clark Vansteensel
Email: Send Email
Phone: 0032476879628
Address:Essensteenweg 14
Country: Belgium
Website: http://clapps.be/oxo-game/