Ideavill Co., Ltd. successfully developed a new product to spray water in two directions
Video Link: https://www.youtube.com/embed/MLktwKLyTHY
The new concept mouthwash "Water Floss," which was launched by Ideavill Co., Ltd. to clean teeth with water instead of dental floss, is receiving much attention from consumers.
No matter how well you brush your teeth, you can't remove all the plaque and foreign substances between your teeth, and they cause gum disease. The existing dental floss products are in the form of one-way nozzle and water is only available in one direction. However, the product sprays water in both directions.
With two streams of water, Water Floss is easy to use as you move it forward and backward along your teeth, so everyone can easily use it, including children, the disabled, the elderly, gums treatment patients, pregnant women, and patients with bad breath. This product also complements the shortcomings of the existing water dental floss product, which is difficult to clean teeth with a single stream of water.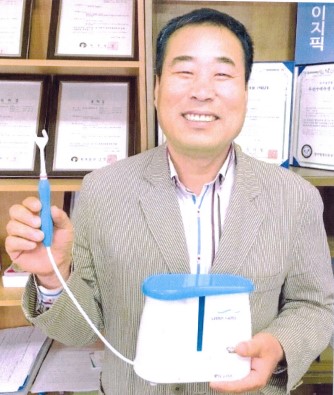 Shin Chun-woo, a developer of the product as well as a former engineer of an ocean-going ship, said he started developing a water floss due to his discomfort, which caused him to suffer from gum disease due to long hours of time on the ship. He bought and used another product, but it was difficult to pinpoint its location by spraying water from the end of a one-way stick, giving unnecessary irritation to the gums, and strong water pressure caused the gums to sit down.
Then, he saw the automatic washing machine at a gas station and came up with the idea of applying it to the water floss, and after many trials and errors, he developed a product differentiated from the existing one.
Reduced Irritation, Increased Cleaning.
Water Floss is a mouthwash that replaces dental floss or toothbrush and features a unique "C"-shaped design. This product minimizes the irritation of the gums by spraying water from both sides while moving along the teeth, and can also freely adjust the angle or depth of the nozzle. Also, this product can wash both the front and back of the teeth at once. This product also reduces side effects of pushing foreign substances into the teeth because it sprays the stream slightly out of line. In other words, the height of both nozzles is slightly different.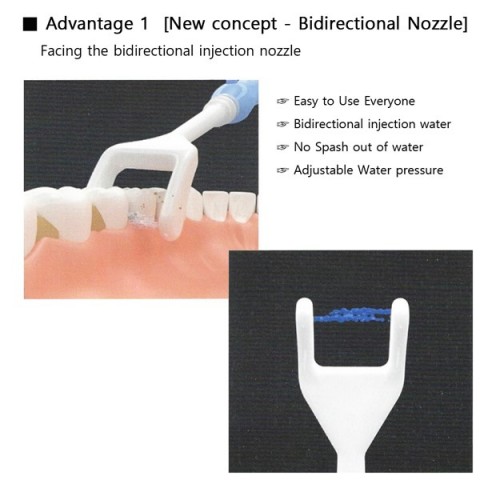 Lowered Water Pressure and Increased Convenience and Hygiene.
Existing products have strong "water pressure" as their advantage, but strong water pressure gives them a cool feeling at first, but if used frequently, there are side effects of lowering their gums. Therefore, this product was developed reflecting the opinions of dentists and experts that water pressure and washing power are irrelevant.
In addition, this product reduces noise and vibration with a gear pump that engages two gears instead of a reciprocating pump that produces serious noise and vibration, and the short pulse cycle not only cleanses the gums efficiently, but also helps to massage the gums, keeping the gums healthier. In addition, this product also used a silicon hose to prevent hoses from being twisted, and a sterilization lamp was attached to the water tank to enhance hygiene for the sterilization of water used.
The technology, which has led to a breakthrough in mouthwash technology, which has not seen technological progress for more than a hundred years, is receiving top praise from experts. Meanwhile, the product won the Silver Prize at the 2014 Seoul International Invention Fair and received the Excellence Award from Commissioner of the Korean Intellectual Property Office at the 2017 Korea Invention Patent Exhibition.
In April 2020, Water Floss succeeded in receiving favorable reviews and rewards from many supporters through a rewarding funding in Korea.
An official from Ideavill Co., Ltd. said, "We have successfully completed overseas sales contracts for Water Floss, including the Middle East, China, and India, so we think that this product will be useful for those who are wearing braces and patients who have difficulty brushing their teeth due to gum disease."
Media Contact
Company Name: Ideavill Co., Ltd.
Contact Person: Hwan Kyu. Lee
Email: Send Email
Phone: +82 10-8150-8661
Country: South Korea
Website: https://www.gobizkorea.com/user/goods/frontGoodsDetail.do?goods_no=GS2019083072311&ctgryCode=S0800200150000&upperCode=M0800200000000&goodsNms=EG-Pick-Waterfloss,-using-three-dimensional-nozzles-with-water-jets-from-both-sides-WP-10&skwanSn=&speclKwanId=SPCCD0000625