Skin Research Institute releases new probiotic face wash: PoreBiotics Creamy Cleanser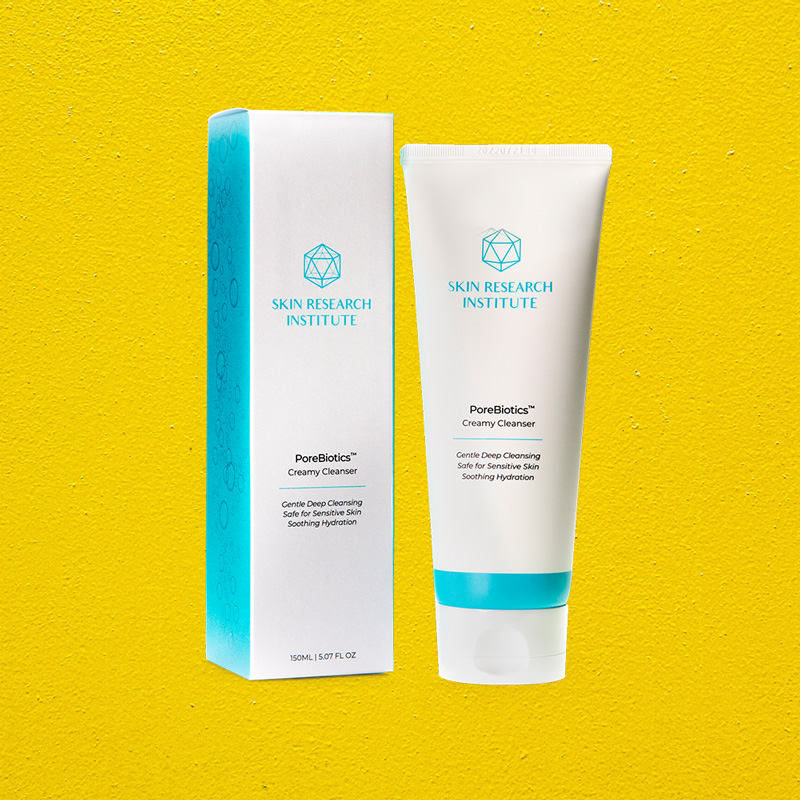 Skin Research Institute in Los Angeles announces their latest product launch of PoreBiotics Creamy Cleanser. It's an all-natural, vegetarian, and cruelty-free formula that's designed to restore the skin's microbiome, with three unique ingredients in a proprietary blend that makes this facial cleanser particularly effective. These properties allow the facial cleanser to deeply moisturize, reduce inflammation, and rebalance the skin's natural pH levels, while providing a gentle, deep cleansing.
September 26, 2020 – Skin Research Institute (SRI) is thrilled to launch their high-end cleanser formula, utilizing the latest in skin-care research and developments.
Their product development team utilized extensive dermatological research to create a unique blend of ingredients that balance and heal the skin's microbiome (it's natural barrier and defense) to provide hydration for a dewy and more youthful complexion. The three primary causes of poor skin and an unhealthy microbiome are an unbalanced pH level, lack of hydration, and impurities trapped in pores that cause redness and acne. The difficult task is to create an effective, safe, and natural solution that retains hydration, while naturally regulating oil production and protecting the skin from the damage done by free radicals.
The challenge in contemporary developments for facial cleansers is finding the right formula that can deep clean but is also gentle enough to use on sensitive skin. The primary cause of damage is using harmful ingredients from lower quality formulas that lead to dryness and irritation.
Products found on shelves nationwide typically do not use all-natural, vegan/vegetarian, and cruelty-free ingredients since they are difficult to source in large enough quantities. That's why many manufactures use synthetic or chemical ingredients found in many other household products. However, SRI has developed a unique formula following higher industry standards, keeping skin healthy after each wash.
PoreBiotics website recognizes the following harmful yet common industry ingredients that are excluded from their formula: parabens, mineral oil, sulfates, phthalates, hydroquinone, talc, titanium dioxide oxybenzone, formaldehydes and formaldehyde-releasing agents.
Each part of the formula is designed so that the three key ingredients (kefir, hyaluronic acid, and tea tree oil) can fully activate their potential as one to quickly regain a natural balance in the dermis and restore skin to optimal health.
The probiotic rich kefir balances pH levels in the skin, keeping it healthy and inflammation-free. It helps rid the dermis of toxins and free radicals that cause damage and stress to the skin, and delivers nourishing probiotics to maintain a healthy microbiome.
Hyaluronic acid is a natural humectant that works like a magnet by binding water to collagen in order to retain skin's natural moisture. Its powerful hydration alleviates dry skin and improves elasticity, reducing fine lines and wrinkles for a smoother complexion.
Tea tree oil fights acne with its antimicrobial and anti-inflammatory properties. It deeply cleans pores while still soothing any redness, swelling or inflammation, making it safe to use on sensitive skin.
Kristy Souza, the Brand Director of Skin Research Institute, stated the reason why they decided to initially create PoreBiotics: "While there are a few other high quality face cleansers on the market, we couldn't find any that would actually fight against free radicals while still maintaining the benefits of hydration throughout the day. Some of these products claimed they corrected pH levels, but we couldn't find any that were all-natural and effective."
Mrs. Souza continues, "As a brand committed to women's beauty and wellness, it was necessary for us to create a product that women would use daily. Women are savvy shoppers and they make over 70% of all retail purchases. Today, women expect more and that's why they shop with brands like ours. They not only want, but demand, that the brands they buy from are safe and healthy, and also make you look and feel good."
She explained that, "Smaller brands like ours are growing faster than we can keep up, because it's easier today than ever before to get our message out. Using kefir to repair your skin naturally is better than using chemicals created in a lab. And while it costs more to make a quality product at the highest industry standards, we and women know that the benefits of keeping beautiful, luminous and healthy skin well past retirement is worth it."
Mrs. Souza stated that, "This is the most exciting time in our company's history. We've listened to our customers and now we're able to create exactly what they're looking for and even deliver it to them just how they want – in environmentally friendly packaging. Specifically with our new PoreBiotics formula, it's vegetarian, all-natural, and of course, cruelty-free."
Skin Research Institute's web development team is in the process of finalizing the launch of PoreBiotics by the end of next week. SRI values the importance of investing years of research before launching any new product within their already established arsenal of hair and skin care related products. They always push the envelope of innovation and we look forward to seeing their next product launch later this year.
SRI has an "A" ranking on the official Better Business Bureau website. Additionally, their Facebook and Amazon reviews affirm their positive reputation and long-term customer retention.
To find out more about Skin Research Institute's PoreBiotics launch, click here.
About Skin Research Institute:
SRI's mission is to celebrate women's beauty and graceful aging. They avoid dangerous manufacturing processes and ingredients, while utilizing the latest developments in Korean beauty and research to ensure effective and natural solutions to lasting beauty. Their products are all-natural and cruelty-free. Most importantly, they stand behind all their products with a 60-day guarantee to ensure 100% customer satisfaction.
Media Contact
Company Name: Skin Research Institute
Email: Send Email
Website: skinresearchinstitute.com
Media Contact
Company Name: Skin Research Institute
Contact Person: Media Relations
Email: Send Email
Phone: 1-800-958-1094
Address:2425 Olympic Blvd Suite 4000
City: Santa Monica
State: CA
Country: United States
Website: Skinresearchinstitute.com