The book Leverage Blueprint Now Available – Leverageblueprint.net
A new book with secrets that has changed millions of lives from poverty line to exponential economic growth and breakthrough is now available to all.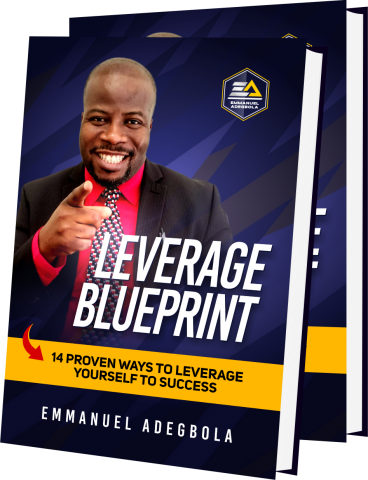 The book 'LEVERAGE BLUEPRINT' has all the information and strategies that would launch you on the path of success in any area of your endeavor without exerting a lot of stress, heat and energy.
The book contains 14 proven ways to leverage your success and the testimonies from all who have used this road map are astounding and exceptional. Reports have even shown that many readers had an immediate leap forward by leveraging on a few of the proven leverage strategies.
If you want a phenomenal breakthrough in all your endeavor or desire to join the ranks of those who have improved their financial status by employing the leverage strategy of achieving much with little, then this book is for you.
Pastor Emmanuel Adegbola, the president/CEO of Hidden Riches LLC, a Success Coach, a Motivational Speaker, and an International Bestselling Author, demonstrated his deep understanding of how the spiritual influences the physical by a scholarly exposition of the vital link between the spiritual and the physical in this unique book which can also be described as an economic and spiritual blue print.
Video Link: https://www.youtube.com/embed/KAJLbmSNtrQ
The book's piece on how to successfully obtain financial resources is a great resource that could be used by all.
LEVERAGE BLUEPRINT which was launched on September 19, 2020 is now available on Amazon as well as our website www.leverageblueprint.net.
ABOUT THE AUTHOR
Emmanuel Adegbola is the President/CEO of Hidden Riches, LLC. A Success Coach, A Motivational Speaker, International Best Selling Author, Facilitator, Founder of Crypto Forex Institute, Certified Holistic Marketer, A Gospel Drama Minister, Certified Law of Attraction Wealth Practitioner and above it all; he is a minister of the Gospel. A senior Pastor of RCCG Abundant Grace Embassy. Emmanuel is a caring husband and a loving dad. Married to Ruth Adegbola and they are blessed with Hezekiah and Hephzibah Adegbola. Emmanuel's desire is to seeing people living their dreams and living life at their terms. Emmanuel has helped countless of people globally in business and in their personal life to achieve their dreams and got on better part of life.
Media Contact
Company Name: Hidden Riches, LLC
Contact Person: Media Relations
Email: Send Email
Phone: +1-214-440-6099
State: TX 75181
Country: United States
Website: http://www.leverageblueprint.net/