Sanity Health is now offered Nationwide Through Mr. Checkout's Direct Store Delivery Distributors.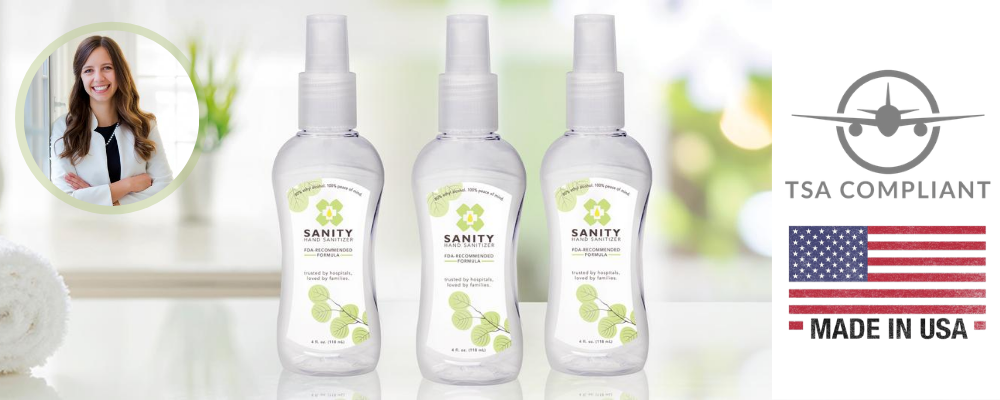 "After spending almost 10 years as a Chemist making and selling ethanol, I've decided to pass along my industry knowledge to keep you and your loved ones safe, by creating Sanity – the brand that uses the germ-fighting power of ethanol to bring you the peace of mind you deserve." Lauren Eichelberger, COO
Sanity's sanitizer is free and clear of any harmful substances and made with only the highest FDA-registered quality ingredients to bring you and your loved ones the peace of mind you deserve. Made in the USA, Sanity is designed to be gentle for your hands, but also robust for surfaces so you can use it on any surface you want to ensure to be germ-free. Conveniently sized, Sanity's 4oz spray bottle is TSA-approved and easy to carry with you anywhere you go.
Trusted by Hospitals and Loved by Families, Sanity's Safe and Gentle Sanitizing Spray is Now Offered Nationwide Through Mr. Checkout's Direct Store Delivery Distributors!
We have all seen the headlines, "101 Hand Sanitizer Recalls: FDA Lists Methanol Hand Sanitizers to Avoid" that spark the questions: Is what I'm using safe? What about my parents, grandparents, siblings – are they using products that could harm them?
With no guarantee that sanitizer products on the marketplace aren't doing more harm than good, The Sanity Health team of scientists knew they had to put their vast knowledge of ethanol to work to launch a company that would protect our loved ones, while offering quality ingredients around the country to bring you and your loved ones the peace of mind you deserve.
Enter the launch of Sanity's Sanitizing Spray,, bringing you the germ-fighting power of clean, safe ethanol – guaranteed. With Sanity at your fingertips, you can sleep soundly knowing that you bought a product that gives you:
– 150 more uses compared with an equivalent 4oz bottle of gel.
– Clinical strength formula used by healthcare workers.
– Fast-drying spray leaves no sticky residue.
– Ability to sanitize hands AND surfaces such as keys, door knobs, steering wheels, counters and much more!
This product launch has been met with great fanfare in a market plagued with toxic hand sanitizer masquerading as safe. From doctor's offices to households, it seems that a scientifically tested sanitizing formula is their preferred flu season protector.
Christine Eichelberger, essential banking worker and mother, exclaimed, "I love my Sanity hand sanitizer! The spray is so much more useful than the typical gel. I can spray it on my door knobs, steering wheel and even my phone and key The 80% formula based on FDA guidelines gives me confidence that I am using the most effective product available. I also love the fact that it is manufactured in the U.S. (Chicago) by established chemists. I have purchased many additional Sanity hand sanitizers for my friends and family because I believe it is unique in offering all of these benefits."
"I use this sanitizer in my clinic. It can be used not only for patients' hands, but also for equipment. It's clean, non sticky, fragrance free and FDA approved because of its 80% alcohol content. This is unlike most sanitizers on the market, which are comprised of between 62-70% alcohol content. I highly recommend!" – Lauren Schnidman
Sanity. A product that scientists are proud to stand behind. A company you can trust.
Sanity Health Company believes the world's hardest working hands shouldn't have to worry about staying safe. Using FDA-recommended formulas and verifying the purity of our products with state-of-the-art Gas Chromatography laboratory testing, Sanity is proud to bring the purest, safest sanitizers to North America.
If you'd like more information on the product or bulk wholesale purchase requests, contact Lauren Eichelberger, Chief Operating Officer, at [email protected] or at 312-967-7051, or visit our website at www.sanity.company.
Media Contact
Company Name: Sanity Health Company
Contact Person: Lauren Eichelberger
Email: Send Email
Phone: 3129677051
Country: United States
Website: https://mrcheckout.net/sanity-hand-sanitizer/