Everyday Melburnians in stage-4 lockdown captured in short documentary… and it's iso-crazy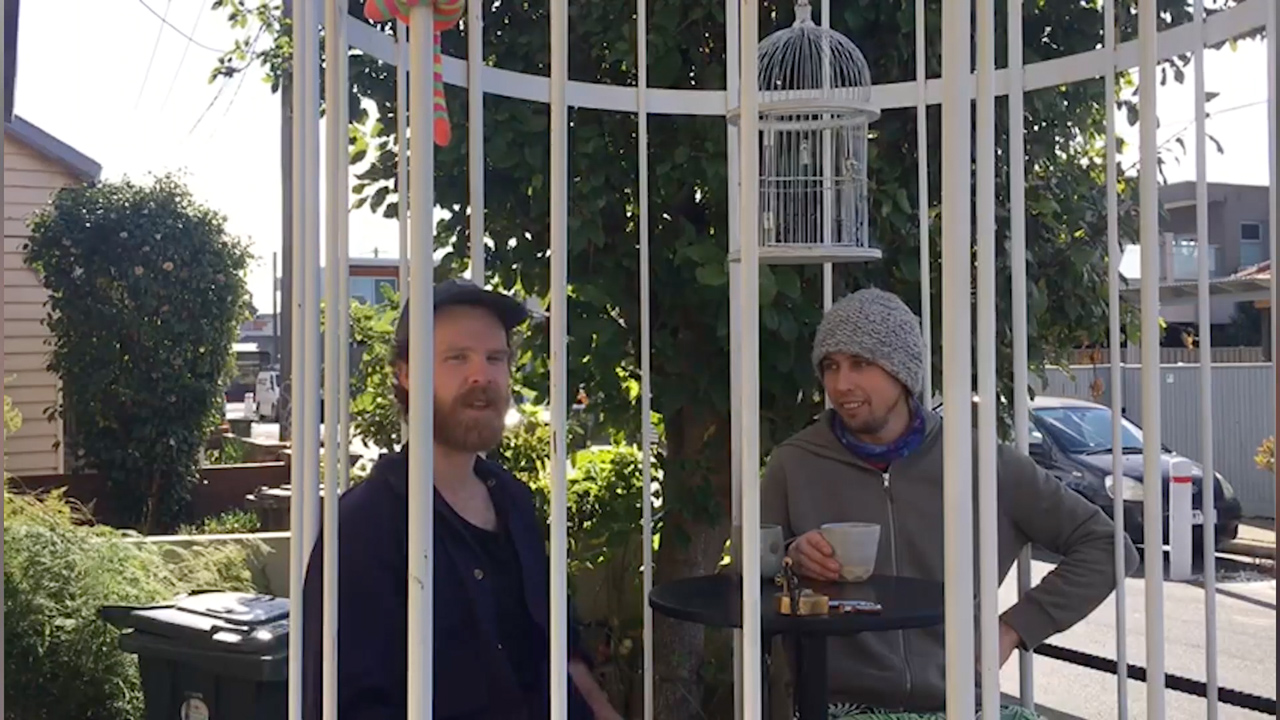 Melburnians need to know they are not alone – the people in this short documentary could be anyone currently stuck alone in isolation.
As Melburnians champ at the bit to taste a scerric of freedom, a Melbourne-based video production company has released its own lockdown passion project: a short documentary on the lives of everyday Melburnians who have battled isolation and experienced what Monster & Bear Creative Director, Sarah Hickey, coins as "Iso-Cray" (a.k.a. 'Resilientitis').
"Like most businesses in Melbourne, Monster & Bear has been completely locked down under Stage 4 restrictions," said Sarah Hickey. "During this second period of isolation, our creative team started to think about ways we could document this extraordinary time in Australia's history, which was very different to the first lockdown. We felt the rest of Australia needed to understand what Melburnians were going through – their everyday experiences for better and for worse."
One of Monster & Bear's regular clients is Beyond Blue, which advocates for mental health and wellbeing. Having worked with Monster & Bear on several sensitive documentaries around mental health awareness, the company knew its Stage 4 documentary could serve as an important vehicle to start the necessary discussions of how we are all coping and how we can help each other.
With this in mind, the production company put a callout to all of Melbourne for a wide array of footage and stories, stating this documentary would be guided by the content Melbournians would be willing to contribute.
When the video submissions started rolling in, Monster & Bear were genuinely surprised. What they initially thought would be a heart-wrenching tale of fear and isolation, became a story of "Iso-Cray".
"We were all determined to provide insight into the sadness we're all feeling, but were instantly shocked and surprised to see our fellow citizens pull through with a uniquely Melbournian sense of resilience and creativity," said Sarah Hickey. "In fact, everyone seems to have embraced their ISO-cray. I think we all recognise this is a once in a 100-year event, and it's refreshing to see a city (and the broader state) giving each other permission to feel every kind of emotion on the spectrum. If we can normalise feeling a bit 'crazy', this might just have a very positive mental health effect. We should all be able to share our feelings right now, and we shouldn't be ashamed of it."
"Melburnians need to know they are not alone – the people in this short documentary could be anyone currently stuck alone in isolation," said Company Director, Ryan Bird. "We want everyone in Melbourne to post their own clip on social media with the hashtag #isocray – there is strength in numbers and when you see you're not alone, you will feel a little bit better about your predicament. Wear your heart on your sleeve and talk about your emotions, share with the world your kooky dance moves, or how you've been unusually creative!"
The documentary was also a response to what the creative team believes has been a climate of fear-based stories affecting the community. Monster & Bear purposely chose to strip its documentary back to feature more everyday isolation stories. People, businesses and communities are struggling in ways that are hard for them to communicate to their friends and families outside Victoria. And while the media focuses its attention on stories that are more salacious, the producers feel these are the stories and feelings that are currently being under-reported.
"Melbourne is normally such a vibrant city full of diverse people, communities and culture. I think this has shown itself in the different ways people are coping as they embrace their isolation madness," said Managing partner, Jessica Pearce.
In the doco, we see Melbournians scream from their doorsteps at the top of their lungs, having their morning coffee in human-size bird cages, and creating Iso-poetry in the depths of the night. It features parents taking care of their kids at home, Iso-dancing, and a share-house family deciding to celebrate Christmas in July. It's a kaleidoscope of emotions that the team have categorised into five "phases" of Melbourne's journey through lockdown.
Phase 1: Finding ways to pass the time.
Phase 2: Getting creative.
Phase 3: Depression. Anxiety. Uncertainty.
Phase 4: Isolation Crazy (the 'pinnacle of Iso-Cray').
Phase 5: Seeing something on the horizon…
"We want to normalise what everyone is feeling right now," said Company Director, Josh Mitchell-Frey. "To let the people of Melbourne know their feelings are not uncommon and as a wakeup call for the rest of Australia to support their friends and families in Victoria. While you're enjoying cafes, footy games and beaches – we're doing it tough and a simple phone call will make all the difference."
Watch/link to the full documentary https://www.monsterandbear.com.au/work/iso-cray-a-story-of-melbourne-locked-down/
Media interviews: Drew Lambert @ 0425 200 606
About Monster & Bear during COVID-19 lockdown
As a high-end film and video production company, COVID-19 (and in particular Stage 4) has been a very turbulent and testing time as a business. For the moment, a lot of the larger scale works and high-concept commercials are having to be re-thought in ways which either restrict filming to remotely filmed concepts or (beyond Stage 4) in ways that can be filmed with a skeleton crew with strict COVID-19 safety measures in place. Making this documentary was a great way to take initiative and see how provocative or emotional a user-submitted film can still be.
But furthermore, as with all content that Monster & Bear generates and puts their name to, the objective for the outcome of this short film is much bigger than themselves. It's simply to raise awareness that it doesn't take a heightened or particularly traumatic experience in Stage 4 to feel like we're all fatigued and losing control.
We hope that the rest of Australia can empathise with our hardship, and that Melbourne can be kind to themselves while they embrace the fact that they're losing their minds. As the documentary tells us, we'll all get to Phase 5 eventually, and you'll just have to watch to find out.
More of Monster & Bear's film and video production work: Video Production Melbourne
For Animation Video Production see: Animation Video Production
For Corporate Video Production see: Corporate Video Production
Media Contact
Company Name: Monster and Bear Film and Video Production Melbourne
Contact Person: Christopher Lichti
Email: Send Email
Phone: +61385903052
Address:13-19 Leslie St
City: Brunswick
State: VIC
Country: Australia
Website: https://monsterandbear.com.au/