Wedding Hassles Eliminated With The Recent Launch of Groomservice
Innovative wedding solutions company, Groomservice launches its one-of-a-kind wedding planning and management services for the "Big Day" with extraordinary perks
Groomservice is a brand new company designed to transform the wedding experience for the groom, giving him everything he needs to enjoy a truly memorable morning. Designed to reduce the stress and anxiety associated with the big day, Groomservice provides a tailored package to wedding parties which includes refreshments, entertainment and grooming kits to ensure everyone is looking, and feeling, their very best.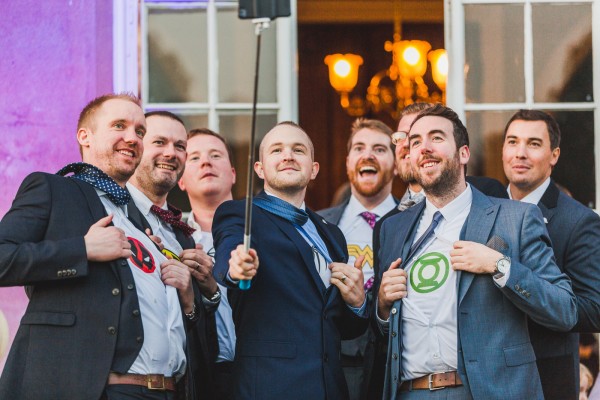 Ask anyone who has been married, and they will tell you that the morning of their big day is one of the most anxious and nerve-wracking moments of their life. A genuinely unique new company, Groomservice, has been specifically created to help reduce this associated stress and ensure that the groom and his best men are able to enjoy the build-up in the most relaxed and enjoyable way possible.
The company was created following the wedding of company founder Alex's brother. On that day, his mum wanted to spoil her son, giving him a truly memorable morning while ensuring he was properly fed and was able to head to the ceremony in a relaxed and stress-free state of mind. Seeing the benefits this offered his brother, and recognizing a clear gap in the market, Alex decided to launch Groomservice to provide other grooms the ultimate care package on their big day.
The unique service has been specifically designed to ensure that grooms are able to enjoy a completely stress-free, relaxing and fun-filled start to their big day. Currently offering two packages, either a two-hour service or a three-hour, Groomservice provides everything required to kick-start a truly memorable day.
Depending on the package chosen, Groomservice will arrive either two or three hours before the groom's party needs to leave for the wedding ceremony. The dedicated team will arrive with everything required, ensuring the groom and his friends only need to worry about getting ready for the celebrations ahead. Included in the package is:
• Breakfast or lunch, to ensure that everyone is suitably fuelled and prepared for the big day ahead.
• Chilled beverages or drinks to get the celebrations started
• An Xbox, to allow the groom and his friends the chance to unwind and relax ahead of the ceremony
• Full amenities, including iron and shoe polish to ensure that everyone is able to look their very best.
• Spare socks, pants, aftershave, shaving kits, hair gel, flower pins and cufflinks, guaranteeing that everyone in the party will be able to look their best before leaving for the ceremony.
Alongside these items, the Groomservice butlers will also provide additional grooming products and lint rollers to remove any stray hairs or dust from the suit. Not only that, but the Groomservice team also brings a printer with them to ensure that anyone who has forgotten their speech, or is too nervous to remember it, is covered!
Each wedding day package is customised to the groom, so as the Groomservice team is setting up, guests will be able to enjoy the latest Xbox games of their choice alongside their favourite music and their favourite drinks. The team will also prepare a full breakfast or lunch according to the dietary requirements of the client.
As the groom and his friends relax, Alex and his team of Groomservice butlers will iron everyone's shirts to ensure they are looking as crisp and fresh as possible. They will also polish everyone's shoes to ensure they are shining.
For anyone who has forgotten any essentials, the Groomservice team guarantees to have everything that you could possibly need for the big day, including crucial clothing accessories, medication such as ibuprofen and hayfever relief, grooming products and other key wedding paraphernalia such as confetti and flower pins. Whatever might be required, the experienced Groomservice team guarantees to provide it.
Of course, one of the biggest worries of the day is ensuring everyone arrives on time, which is why Alex and his team are on hand to ensure everything goes to plan. They will ensure everyone is ready in plenty of time, taking care of all the cleaning and washing up before departure, and ensuring everyone is sent on their way feeling refreshed and set for the celebrations that lie ahead.
The Groomservice package begins at £397 for two hours (£497 for the three-hour package) and includes four people, although additional people can be added for a set price. Although based in London, the team is able to travel across the UK, with just a £97 deposit required.
Speaking ahead of the launch, Alex Dean, Managing Director at The Groomservice added, "Getting married is one of the most significant moments in anyone's life. However, on the morning of the big day, it is often customary for the bride to enjoy a pampering session, with her hair and makeup being prepared for her, whilst the groom is often left to fend for themselves.
Groomservice has been specifically created to ensure that every groom getting married can enjoy that same special treatment. Its dedicated team will be on hand throughout the morning to give them the ultimate pre-wedding morning, ensuring they arrive at the ceremony relaxed and stress-free.
The Groomservice dedicated team will provide the groom and his best friends with a delicious breakfast, chilled beers, the latest Xbox games and all of the essentials required to ensure that everyone is looking and feeling their very best!"
The Groom Service packages are available to book now, and for more information on what the team can provide, visit https://www.thegroomservice.co.uk/.
Media Contact
Company Name: The Groomservice
Contact Person: Alex Dean
Email: Send Email
Phone: 0333 050 6359
Address:41 Mansfield Rd
City: Chessington
State: Surrey, KT9 2PJ
Country: United Kingdom
Website: www.thegroomservice.co.uk