Pasta Life Takes Saving The Turtles To New Heights With Their Pasta Straws And Reusable PPE Mask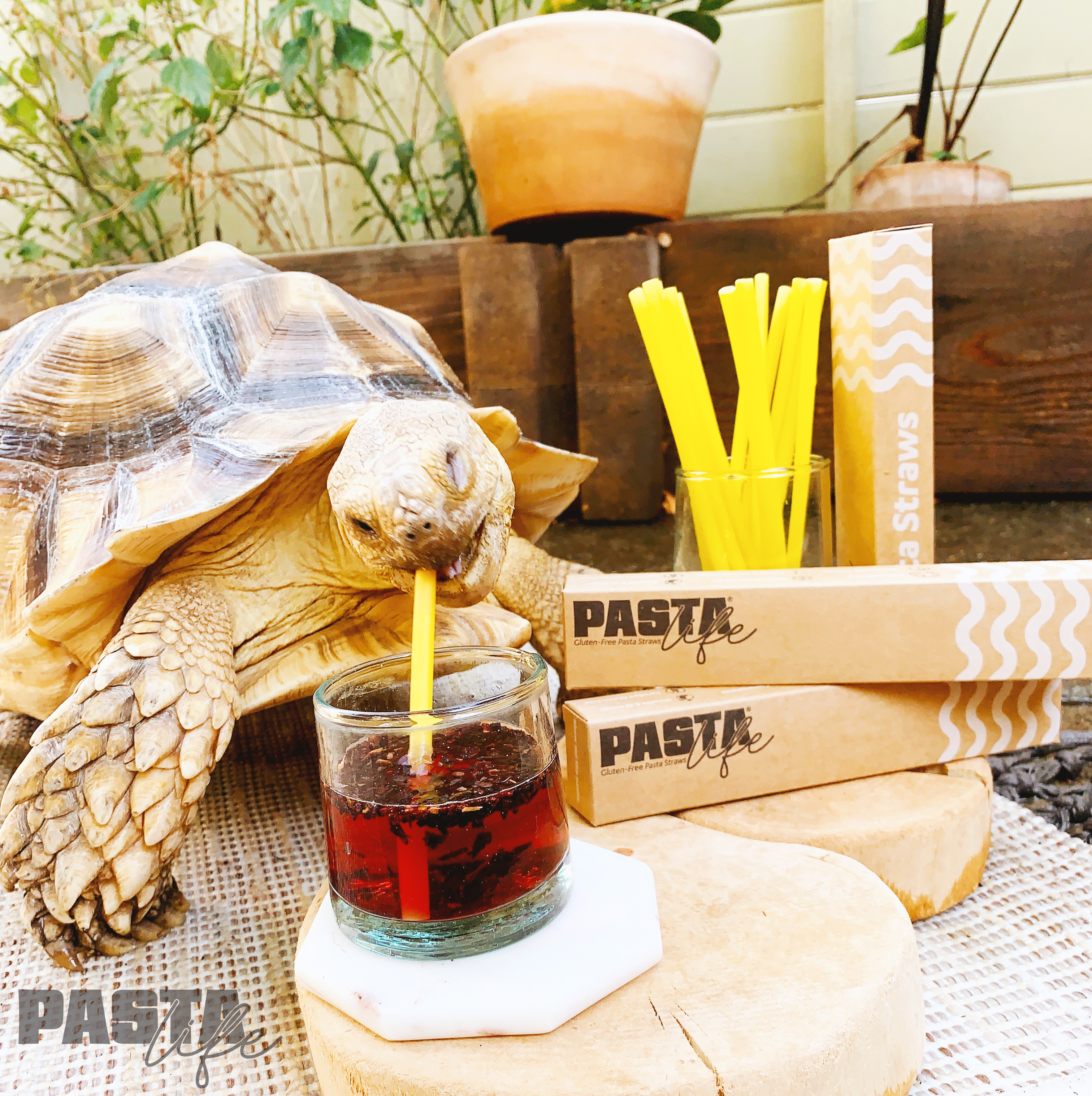 Ethel the Glamour Tort enjoys Pasta Life pasta straws, the world's first gluten-free and biodegradable pasta straw.
Pasta Life Partners with Instagram Famous Turtle to Urge Americans to Refuse Plastic Straws and Commit a Portion of Each Sale to Ocean Conservancy
New York City, N.Y. – September 9, 2020 – Pasta Life, the world's first gluten-free, long- lasting pasta drinking straw is helping Americans to do their part in the cleanup of our polluted waterways and oceans. Pasta Life products prevent toxic straws from ending up in our life-sustaining oceans by replacing plastic with 100% plant-based pasta straws that are biodegradable in fewer than 90 days rather than hundreds of years! If Pasta Life straws find their way into our waterways or oceans, they can be eaten by wildlife like Ethel the Glamour Tort.
The fight against plastics is not new; for more than 30 years, the Ocean Conservancy has mobilized volunteers worldwide to pick up more than 340 million pounds of trash along our shores. It does not stop there, however. More than 8 million metric tons of plastic enters our waterways and oceans every year, despite the efforts of millions of volunteers. When animals see plastic straws in their habitat, they often think they are food and eat them resulting in death. Plastics will continue to profoundly impact the survival of the world's marine life, such as Ethel the Glamour Tort, unless we act now.
"Single-use plastic and paper straws are the epitome of our throwaway culture, increasing waste dramatically and threatening the future of our waterways and the health of our ecosystems," said Pasta Life co-founder Anthony Barresi. "We developed Pasta Life straws to eliminate single-use plastics by providing consumers with a quality, safe product that they would enjoy using and would last in drinks five times longer than paper straws. Our edible pasta straws seamlessly replace plastic and paper straws, ultimately reducing the amount of waste that makes its way to animal and human life."
Launched in 2019 and quickly becoming popular across the country, Pasta Life has made their durable and eco-friendly pasta straws available directly to consumers. In addition, in response to the worldwide pandemic and subsequent increase in PPE waste, Pasta Life has created an innovative, reusable and machine-washable Face Mask that includes an accessible but covered opening so you can enjoy a drink with your Pasta Life straw without ever having to remove your mask! A portion of the proceeds from each sale of their outstanding mask + 20 straw combo package will be donated to Ocean Conservancy.
"Our passion for the environment coupled with our love of pasta and desire to ensure a cleaner world for future generations," added co-founder Dave Sedacca, "is what drives us to turn Pasta Life's pasta straws into a movement, reducing waste worldwide."
Certified gluten free and vegan, kid-friendly, Pasta Life pasta straws in eight vibrant colors and three different sizes are perfect for smoothies, juice drinks, cocktails, mocktails, and more. Only $18.99, the mask and straw variety combo is available to purchase now for a limited time at http://pasta.life.

Video Link: https://www.youtube.com/embed/M-9YirZ9APo
About Pasta Life
Founded in 2019, Pasta Life was founded by friends Anthony Barresi and Dave Sedacca and born out of their passion for ocean preservation and pasta. They set out with a mission to create a top-notch eco-friendly alternative to plastic straws. Pasta Life pasta straws are certified Gluten free, Vegan and biodegradable in under ninety days.
For more information, visit http://pasta.life
Media Contact
Company Name: Otter PR
Contact Person: Jennifer Reza
Email: Send Email
Phone: 310-968-8503
Address:1145 Sherman Street Unit 200
City: Denver
State: CO
Country: United States
Website: www.OtterPR.com