LayOn: The world's first 2 in 1, quick inflatable, carry-on approved travel pad solves an enormous problem of many travelers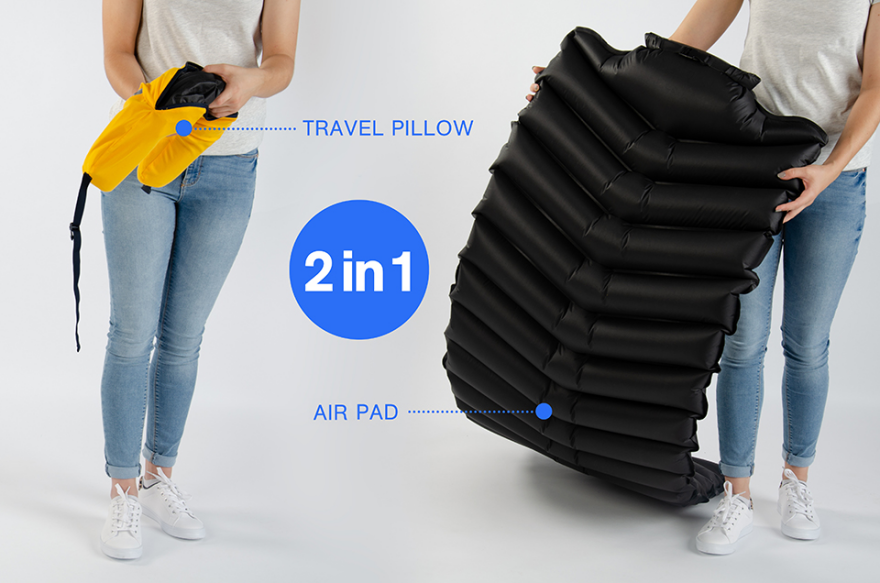 Travelers looking for a comfortable way to relax and rest in an airport often are relegated to hard chairs. LayOn, is a fresh new start-up providing a solution to this widespread traveling problem: LayOn 2 in 1 travel pad. The first carry-on approved travel pad for best sleeping support anytime and anywhere.
The travel accessory of new generations. It might look like your regular travel pillow, but it is so much more than that. Let us introduce you to the world's first and only accessory of its kind – an air pad and a pillow in one product. EASY and QUICK to inflate indoors or outdoors without using a pump. The product is designed to offer you sleeping support in different stages of your journey.
Conveniently stored in the shape of a travel pillow, it offers extra sleeping support unlike any other carry-on sleeping accessory on the market:
https://drive.google.com/drive/folders/1m_-D7jItTtPS4Ble_FhfwlIQUIQgYOEt?usp=sharing
Where to use it?
From airports to cars, from indoor to outdoor, LayOn is the ultimate travel accessory for best sleeping support. You can use it while sitting or laying down and we guarantee it will make your travelling more comfortable every time.
World's first free carry–on air pad.
The LayOn 2 in 1 is airplane and airport adjustable. Airlines charge fees for extra luggage and weight. With LayOn 2 in 1, the pillow has the shape of a standard travel pillow and will not incur additional travel fees.
Indoor and outdoor use.
Inflating the LayOn 2 in 1 is user-friendly and can be inflated either indoors or outdoors without using a pump or wind.
It's made of durable nylon that can also be used on rough outdoor surfaces, as long as the user makes sure there are no sharp objects under the air pad. The product serves its purpose next in spring, summer and autumn.
When?
With the practical shape of the pad and its quick and easy inflation, there is no doubt it will be soon become a traveler's best friend, especially in cases of:
– long-distance flights and long flight layouts
– unpredictable situations when one is stuck at the airport
– reaching the final destination and wanting to lie down on a beach or use it as an extra bed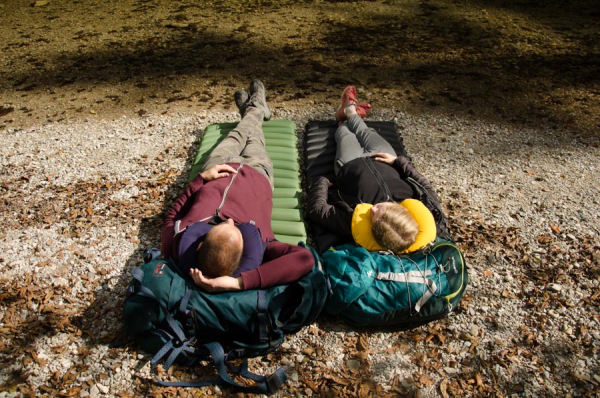 For more information, visit:
https://drive.google.com/drive/folders/1bMuPkU4M_r-6qC7_DwQ2iysr51A7sQLO?usp=sharing
Who?
The traveler exposed to sleeping/napping in airports, airplanes, ferries, cars, buses or at office and under the sky.
LayOn 2 in 1 is the air pad for any situation. Travelers will be able to rest as needed for exciting moments and adventures.
Features:
– Air pad and travel pillow in one product.
– The inflation is easy and quick due to PATENTED Technology with an aerodynamic design. The user simply blows the air through the front gap and the air is caught in the core area called "balloon". The gap is then closed and squized. After only a few repetitions, the air pad is full.
– The LayOn pillow is made of 3 components that make it easy to clean.
The cover of the pillow is machinewashable and the inflatable components can easily be wiped clean.
– The pillow cover is made of Italian soft and light natural viscose. The air pad is made of quality waterproof and airtight fabric 40D nylon. The pillow insert material is made of PVC
Size:
Length 188 cm, width 65 cm, thickness 7 cm / Length 74'', width 25,6'', thickness 2,7'';
Pillow size: Long 36 cm, width 27cm, height up to 16 cm / Long 10,6'', width 14'', height up to 10,6'';
Package size: 25 x 12 x 14 cm / 9,8'' x 4,7''x 5,5''
How does it work?
The pillow is inflated within 2breaths. The valve is hidden under the front side cover and is easily accessible.
For more information, visit:
https://drive.google.com/drive/folders/1m_-D7jItTtPS4Ble_FhfwlIQUIQgYOEt?usp=sharing
The air pad is located inside the pillow and can be accessed by opening the zipper. Once we have accessed the air pad, inflation is quick and easy. One only needs to open the gap, blow the air inside and press the balloon that then moves air forward into the pad. The technique is easy to master and users inflate it with just a few breaths. What is more, LayOn stays in shape throughout the night and keeps you from touching the ground.
Take a nap, anytime, anywhere.
We are starting this campaign because we believe that nap time is important while you travel. Our mission is to provide travellers the best sleeping support.
Launching, where can you find us?
The LayOn 2 in 1 travel pad is avalible on Kickstarter since 29th of October. Updates will be in the newsletter or follow on Instagram or Facebook.
For more information, visit: www.layon.eu
Media Contact
Company Name: LayOn
Contact Person: Account Manager
Email: Send Email
Phone: +38651381307
Country: Slovenia
Website: www.layon.eu