All-Time Favorite Red Thread with 16 Features, designed to Empower, Protect and Rejoice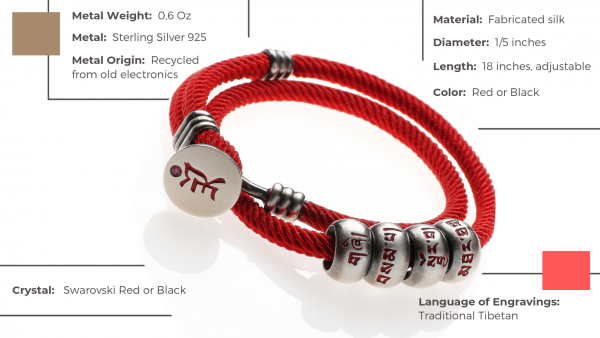 Enjoy Karma is a concept jewelry studio specializing in high-quality jewelry and innovative custom designs.
They created a unique bracelet with16 features that is not only aesthetically beautiful but blends with deep meaning, sustainability, and comfort. The bracelet is adorned with eco silver charms that have Tibetan codes engraved on them. The famous red threads have already become such: on the one hand it is the most powerful amulet, and on the other hand, it is a stylish accessory.
Among 16 features are a versatile design – bracelet becomes a stylish necklace, easy to wear with just one hand. It's built to last! Enjoy Karma uses recycled sterling silver and vegan silk cord and it fits many styles. Enjoy Karma jewelry is ethically handcrafted in Ukraine.
The bracelet is created by Yanina and Andrey, who founded a non-profit club that raised $100,000 to support a non-profit organization ACIP (Asian Classics Input Project). They will give to charity $10-$25 depending on a pledge to help the organization save centuries-old palm leaf and paper manuscripts, containing Yoga, Ayurveda, Philosophy and cultural heritage. Those donations help support Tibetan refugees in India, create workplaces for women and other underprivileged members of society, teach them computer knowledge. They work on creating an online database of those old manuscripts which are available online for FREE.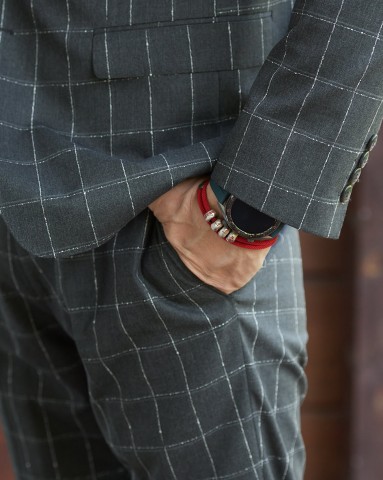 The adjustable bracelet that easily turns into a necklace represents Karma – 'If you do good things, good things will come and if you do things that you are not really proud of, Karma will happen.'
Lara Abulawi, the Super Backer on Kickstarter says, "No matter your religion, culture, and beliefs, this bracelet will remind you those good things happen even if you are going through a rough patch, You will look at it, touch it and take a deep breath and know that better days will come."
The engraved symbols on the bracelet represent the ancient concept of Karmic Path, that has been described in the ancient manuscript 'Treasure House of Higher Knowledge' dated 4th century AD by Master Vasubandhu.
The bracelet, currently available on Kickstarter for pre-order has received great response from over 200 backers and funded halfway of its goal of $10000. Early Bird is -50% off of the retail price and pledges will be accepted until November 15th only.
Early Bird pledges will be processed in January and the company expects all deliveries done before February 14th.
The Enjoy Karma bracelet is the brainchild of Enjoy Karma Co., who have created handcrafted pendants, bangles, earrings and wedding bands, for customers across 18 countries.
The bracelet reminds the wearer to stay mindful of their goals and how to reach them. Find more information about the bracelet on its Kickstarter campaign page.
Media Contact
Company Name: Enjoy Karma Co
Contact Person: Marina Verant
Email: Send Email
Country: United States
Website: www.kickstarter.com/projects/andryslabinsky/enjoy-karma-ethical-fine-jewelry-bracelet?ref=www.ff.go2.fund