TRANSITION AFTER PROFESSIONAL SPORT: PARTNERSHIP BETWEEN EX-NATIONAL SHUTTLER AND CELEBRITY MANAGER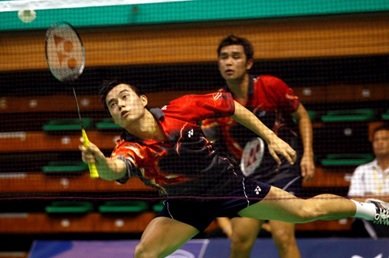 There have been a lot of memorable athletes who caught the spot light in the past but faded out once they retire. Those who remain active mostly switched to coaching. For others, the end of their professional sports career might mean the end of their world.
However, there are few athletes who found an alternative path – in business, in modeling, or even in acting. Among them, Robert Lin Woon Fui, former national badminton player of Malaysia, is without a doubt one of the most successful ones.
No one has probably more say in how hard life as coaching is than Robert. After reaching his career-high as No.4 badminton world player and earning the name as the bane of world and Olympic champions Cai Yun-Fu Haifeng along with his partner, Robert soon went into semi-retirement by taking the job as head coach of AirAsia Badminton Academy.
Competition within the coaching industry is fierce and this career path might not suit everyone. As one of the more successful coaches, having produced multiple world medal-winning talents, Robert never stopped searching for new paths to break career barriers for athletes.
So when he met Jersey Chong Xin Ling, the international spokesperson and manager of Fan Bingbing, one of China's top celebrities, the two of them soon came up with an idea.
Being aware that most elite professional athletes lack guidance and knowledge in the business field when they enter the phase of retirement, this professional team aims to provide support to athletes to establish their second career at early stages of their sports life.
"We do a little more than just being a Sports Agent. We will invest in repackaging and transforming an athlete to a fashion icon or social influencer", said Robert, "We will work with stylists, fashion labels, luxury brands, fashion editors, and team them up with celebrities and other big influencers. We will also send them to event appearances, media interviews, product endorsements, charity events and more."
Being close partners, Robert and Jersey both found a way to take full advantage of their separate expertise to support their new business. Being a professional himself, Robert would shortlist new athletes that he thinks are good or have the potential to shine. Then Jersey would further analyze the candidates through her lens of entertainment industry to identify the one that are more likely to succeed in this area.
They would design a professional promotion plan to help athletes build their image and prepare for transition after their sports career.
Being back in the spotlight, the recently divorced Robert is strongly focused on his new business.
He declared divorced in his social media late July this year. However, he preferred to keep his private life private and didn't want to talk about the breakup of his marriage with former national squash player Delia Arnold.
"My new venture is about preparing for life beyond badminton. I wanted a way to bring Malaysian athletes into the international arena in a different away and at the same time, help them develop a second career," said Robert.
Media Contact
Company Name: Goknews
Contact Person: Media Relations
Email: Send Email
Country: United States
Website: www.goknews.com