Bcnex Officially Launches Global Blockchain Trading Platform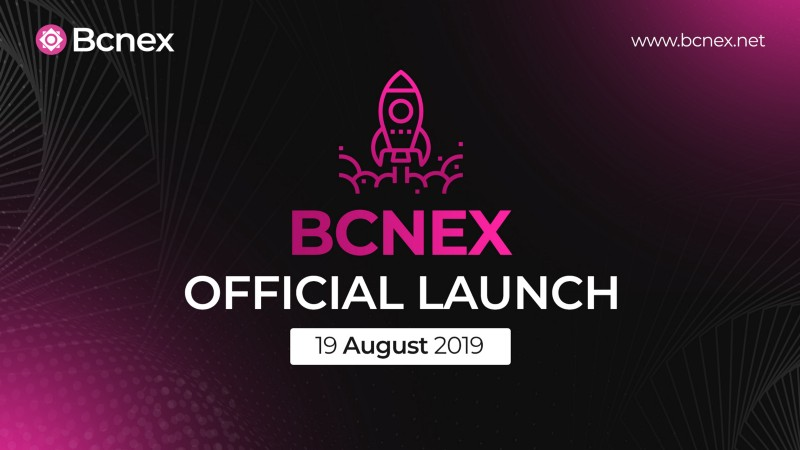 August 19, 2019 – Cryptocurrency blockchain trading platform Bcnex officially launched today at 15:30 time GMT+7.
The Bcnex Exchange, a new, promising player in the growing Cryptocurrency Exchange market, has officially launched as of today. In anticipation of the launch and following a successful ICO with $28,000,000 raised, Bcnex had been building up its brand awareness and user base, now seeing over 100,000 users and 1 million web visitors per month. Bcnex aims to attract more users to its Exchange through a combination of stability, high liquidity, and low fees of just .15% (up to .0375% if using BCNX to pay trading fees) per transaction, which is amongst the lowest in the industry.

Users can enjoy rewards and incentives for trading on Bcnex with the Exchange's own token, BCNX. Currently, Bcnex users can participate in the Lucky Gifts Deposit campaign which lasts until August 25, 2019, where the top 100 users that deposit the largest amounts at the earliest times on Bcnex have a chance to receive 100 special cash prizes of up to $500 each.

Beyond this, users can also earn 40% commission on trading fees from trades made by others through Bcnex's Referral Program.

Bcnex Co-Founder and CEO Ngo Hoang Quyen stated: "Bcnex is pleased to be launching at such an opportune time in the industry. We have already built a positive reputation in the Vietnamese and Asian communities, and look forward to growing our awareness and reach worldwide. We are very optimistic, both from the perspective of our Exchange in seeing continued acceptance from cryptocurrency users of alternative Exchanges, and as members of the crypto community seeing the continued, methodical adoption of blockchain technology. We are poised to be at the forefront of blockchain trading, and look forward to existing and new users joining on the journey together with us."
The Bcnex Exchange is launching at a time of growing demand in the Asian and worldwide markets for reputable Exchanges.

About Bcnex
Founded in early 2017, Bcnex is a secure, reliable and user-centered blockchain trading platform. It's a one-stop solution for trading Bitcoin, Ethereum, Litecoin and other digital currencies with ease. Bcnex offers users a single-access interface to stay ahead of market movements and manage risk and loss like never before.
Visit: www.Bcnex.net
Contact:
Bcnex Team
[email protected]
Media Contact
Company Name: CoinAds Ltd.
Contact Person: Media Relations
Email: Send Email
Phone: 0854123365
Country: United Arab Emirates
Website: https://coinads.pro/