Aurum Asset Management Showcases Future Economic Applications of the Open Aurum Token and Stable Gold Token at the Bloconomic Expo 2019
The Bloconomic Expo 2019, held at Le Meridien, Kuala Lumpur, Malaysia, from 15th – 16th August 2019, saw Aurum Asset Management showcase the future economic applications of the Open Aurum (OA) and Stable Gold (SG) Tokens, which was widely acclaimed by participants at the event.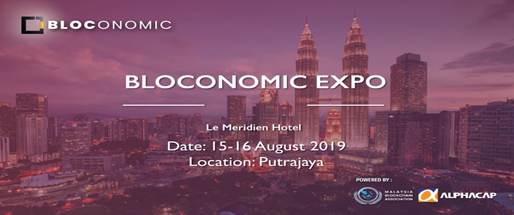 Bloconomic Expo 2019 was co-organized by the Malaysian Blockchain Association with the aim of establishing network partnerships between new blockchain start-ups and developers in a gradually maturing blockchain economy landscape in order to continuously explore new business models and seize untapped opportunities within the blockchain realm. Highlights of the event included brand exposure through exhibition booths, keynote speeches, and the Bloconomics Excellence Award ceremony.
There were over 3,000 participants at this year's summit, including more than 150 media partners, 30 association members, 250 investors and venture capital organisations as well as government representatives from all over the world. The Summit agenda included discussions on the practical applications and future prospects of blockchain in areas such as finance, global payment systems, travel, healthcare, energy trading, digital identity authentication, electronic record authentication, the Internet of Things (IoT) and supply chain management.
Aurum Asset Management also took the opportunity to showcase the features and future development plans for the Open Aurum (OA) and Stable Gold (SG) Tokens to participants at the Expo, with many investors being keen to know more about the tokens. Martin Sal Khalid, CEO of Aurum Asset Management, who participated in the panel discussions segment at the event stated, "The Open Aurum and Stable Gold Tokens are the first digital assets in the world that are backed by physical gold. The tokens can play an important role within the blockchain economic system by being trusted and reliable stablecoins."
Media Contact
Company Name: Aurum Asset Management Ltd
Contact Person: Nicodemo Lowell
Email: Send Email
Country: United Kingdom
Website: http://www.openaurum.io/