Rhino Assembly signs another strategic distribution agreement with Bioservo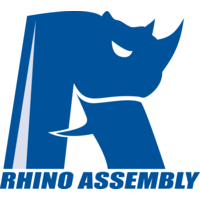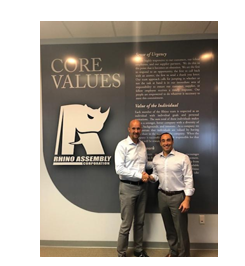 CONCORD, NC – August 16, 2019 – Rhino Assembly signs another strategic distribution agreement with Bioservo for selling the all-new Ironhand® in the United States.
Bioservo Technologies AB (publ) (Nasdaq First North: BIOS) has entered a distribution agreement for selling the all-new Ironhand® with Rhino Assembly Company, LLC for the US market. Rhino Assembly's mission is to identify and deliver the world's most innovative assembly solutions reflective of Industry 4.0 and beyond to their customers with a focus on building better quality products while maintaining a safe environment for their workers. Rhino Assembly is a well-known partner to the local automotive industry with over 30 years' experience and therefore a great partner for Bioservo in the US.
Rhino Assembly works with customers like Ford, BMW USA, Boeing, Caterpillar and many others in the automotive, aerospace, agriculture and general industry manufacturing sectors.
Petter Bäckgren, CEO Bioservo, commented: "We are delighted to add Rhino Assembly to our global partner network as we are establishing distribution throughout Europe and the US. We now enter into agreements with experienced organizations that with the help of their vast networks will be great partners when marketing the all-new Ironhand® on their respective markets."
Dan Brooks, CEO Rhino Assembly, commented: "With the addition of Bioservo's Ironhand®, it is the mission of Rhino Assembly to help our customers focus on ergonomics and productivity in the workplace, providing an immediate solution to alleviate worker fatigue and injury without removing human input from the process.
All of the brands that make up the Rhino Tool House family have helped to develop the infrastructure to provide a service and support reach unmatched in the industry. This expanded reach means that Rhino Assembly can now provide these products and services nationwide within the Rhino Tool House network, adding tremendous value for our customers. Contact Rhino Assembly today to schedule a demo and learn more about the statistics and data behind the new Ironhand® and how it can reduce injuries on your plant floor.
About Ironhand®
Bioservo's soft robotic muscle strengthening system Ironhand® comprises a lightweight glove with a portable power pack worn like a backpack. Ironhand® can add up to 80 N to the wearer's grip within milliseconds. In addition to that, it is equipped with smart data capabilities which makes it possible to digitalize ergonomic risk assessment as well as provide an adaptive performance to the operator over time. At the same time as it supports the wearer, it collects and analyzes data making it possible to evaluate and identify grip intense use cases that run a high ergonomic risk. The wearer is in full control of the system which helps to create a healthy and sustainable work environment.
About Bioservo Technologies
Bioservo Technologies (publ) is a technology and development company that combines medical science with modern robotics. The company holds a leading global position within soft exoskeleton technology – wearable non-invasive devices – for people in need of extra power to optimize the body's endurance and performance, or for people with reduced muscle strength.
After many years of research and development, Bioservo Technologies is now focused on the commercialization of the company's products and patented technologies. The gloves are well-suited to medical rehabilitation, and to preventive use in a variety of industrial applications. The company has signed strategic cooperation agreements with several multinational companies within e.g. the automotive, aviation as well as the construction and infrastructure industry.
Bioservo Technologies was founded in 2006 through a collaboration between researchers at the Royal Institute of Technology and doctors at Karolinska University Hospital in Stockholm. Bioservo Technologies is a Swedish public limited company with its headquarters and operations based in Kista, north of Stockholm. FNCA Sweden AB, +46(0)8-528 00399, [email protected], is the company's Certified Adviser on Nasdaq First North.
To learn more, please visit www.bioservo.com
About Rhino Assembly
Rhino Assembly is a company within the Rhino Tool House family of brands. Rhino Tool House is a versatile organization that has the capability to both services and manage your project needs.
With an eye to the future and a service minded approach, we focus on developing a deeper understanding of our customers' needs and building strong partnerships with our suppliers. This focus has allowed us to continuously educate our team on the latest innovative technologies while being able to match manufacturing and industry 4.0 solutions to the exact needs of our customers.
Vision Statement
In a highly dynamic world, we exist to revolutionize your process. Through our culture, we will create strategic partnerships with our employees, customers, and stakeholders.
Mission Statement
Identify and deliver the world's most innovative assembly solutions. We provide superior service, local expertise, and a high degree of responsiveness to empower our customers to be more productive, build a better-quality product, and maintain a safe environment for their workers.
Certifications:
ISO 9001:2015
ISO 14001:2015
ISO 17025: 2005, 2017 Accredited Service Centers
Websites:
www.rhinotoolhouse.com
www.rhinoassembly.com
Media contacts:
Michelle Fontana
Southern Division Marketing Manager
704.395.2100 ext. 3427
Steven Vogt
Northern Division Marketing Manager
262.796.1100 ext. 4191

Media Contact
Company Name: Rhino Assembly Company
Contact Person: Michelle Fontana, Manager – Marketing and Corporate Communications
Email: Send Email
Phone: 888.727.7882
Address:7575 Westwinds Blvd.
City: Concord
State: NC 28027
Country: United States
Website: www.rhinoassembly.com